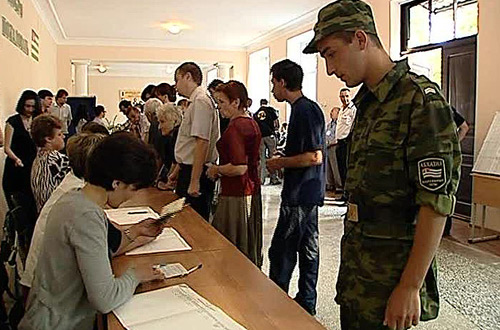 Screen grab from Russian TV footage showing Abkhaz soldier and other voters at a polling station in Sokhumi, August 26.
Presidential election in Abkhazia can be considered as valid in terms of voter turnout as more than half of the registered voters have already cast their ballot, chairman of breakaway region's central election commission, Batal Tabagua, said.
He said that 61.6% of voters turned out at the polling station as of 6pm local time, Abkhaz news agency, Apsnipress, reported.
Russian television footage showed voters lining up outside the polling stations in Sokhumi.
Meanwhile, chief prosecutor of the breakaway region, Safarbei Mikanba, downplayed Tbilisi's condemnation of the Abkhaz vote saying that the Georgian authorities' statements had never affected Abkhaz elections or their results.
"For us important is that voter turnout is high and that there have been no serious electoral violations so far, at least no one has appealed with a complaint to the prosecutor's office," Apsnipress reported quoting Mikanba.