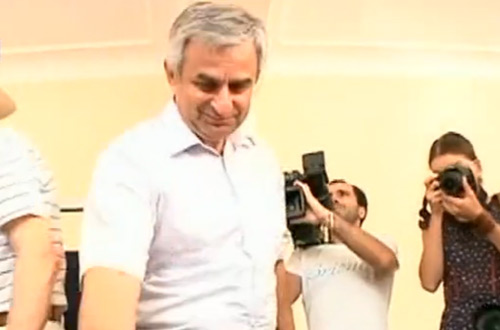 Raul Khajimba casts ballot at a polling station in Sokhumi, August 26.
Unofficial reports started to emerge couple of hours after the polling stations were closed in Abkhazia, saying that Alexander Ankvab leads in the breakaway regions' presidential election.
Reports coming from the Russian media outlets, including Interfax and the Kommersant, are citing vote tellies and figures sent from the precincts by representatives of the candidates.
RIA Novosti news agency reported quoting another candidate Raul Khajimba, that the latter is on the second place and the runoff is likely.
"Ankvab is leading," Khajimba told RIA Novosti. "I can say for sure, that so far none of the candidate has more than 50% of votes required for the victory in the first round."
If true it will come as a surprise for many of those observers who in case of the second round were predicting a runoff between Ankvab and Sergey Shamba.
The breakaway region's central election commission said it would release first official results by the noon on Saturday.