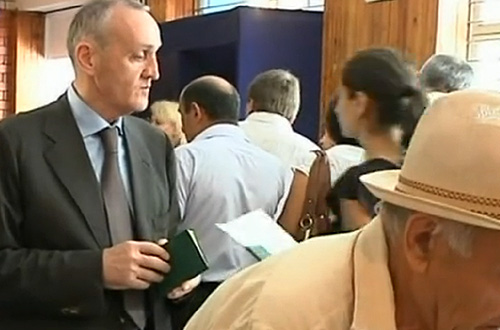 In this screengrab from Russian TV footage, Alexander Ankvab is seen at a polling station in Sokhumi before casting a ballot on August 26.
Alexander Ankvab has avoided a runoff in the race for Abkhaz leadership after receiving 54.86% of votes in Friday's election, the breakaway region's central election commission announced on Saturday noon.
Sergey Shamba, the breakaway region's PM, is a runner up with 21.04% and opposition candidate, Raul Khajimba, received 19.83%, according to official results.
Batal Tabagua, chairman of the Abkhaz CEC, said that most of the votes had been counted; only a vote tally from a mountainous village of Pskhu was not yet delivered, but that would not affect final results as only 104 voters were registered in that village.
He also said that voter turnout was 71.92%. Tabagua, who late on Friday said, that voter turnout was lower this time then during the 2009 presidential election, now said he was wrong to predict such outcome, as the turnout was in fact higher now than in previous elections.
Tabagua also said that complaints filed by representatives of two candidates, Khajimba and Shamba, over electoral violations in the village of Bargebi in the Gali district were "insignificant" which did not affect on result.
He also said that inauguration of the new leader would be held within a month.
Abkhaz news agency, Apsnipress, reported quoting Ankvab's campaign team that Khajimba conceded his defeat after his campaign manager phoned to congratulate Ankvab with his victory. No statement has been made by Khajimba himself or his campaign team yet. Sergey Shamba has yet to react on CEC's announcement too.
Abkhaz CEC chairman also said on Saturday that there had been no incidents on polling stations either during the voting or vote count.