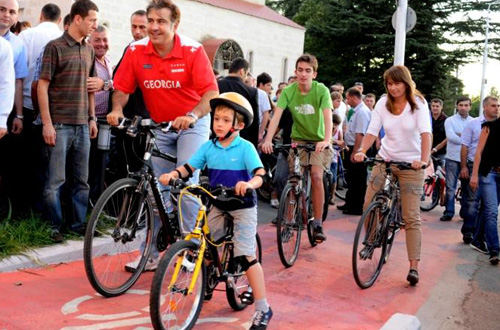 President Saakashvili took a bike ride together with family in Kutaisi on August 29. Photo: President's press office.
President Saakashvili said on August 29, that relocation of Parliament from capital Tbilisi to Georgia's second largest city of Kutaisi would help "to change social psychology" in the country and also to at least partly address Kutaisi's social problems.
"That's really a historic process, because we are building not only the most modern parliament building in the world… but what is important, it is a complete change of social psychology in Georgia," he said while visiting a construction site of the new Parliament in Kutaisi.
"In terms of social and economic development Georgia will gain new, huge energy by relocation of the Parliament to Kutaisi," he said.

He also said that the relocation would also help to overcome "hopeless situation in which Kutaisi was just three-five years ago, when even I was skeptical about what could have been achieved here."
"There are lots of social problems [in Kutaisi]; of course the [relocation of the] Parliament can't resolve all of them, but it can solve some," he said.
Saakashvili also said that the pace with which Georgia "is being built, regardless of all difficulties, is a huge success."
He then continued: "Recently Sandra [referring to his Dutch wife] was in café and she had a chat with one Dutch tourist, who said: 'what a wonderful country Georgia is; people are so good – they invited us to their home, feed us free of charge; patrol [police] provided us with water in the street' – it was hot at that time – 'but this country has one problem; it has very strange President. He has made some silly sketches in his kids notebook and that's why Batumi and Kutaisi are terrible cities' [a reference to what appears to be President's personal involvement in planning new constructions]; why? 'Because that's not Georgia; that's a direct result of his [the President's] strange fantasies'," Saakashvili said.
"That man was not smart," he continued. "In general this arrogance is characteristic to some foreigners too; they think, that good and cool can only be in Holland, France or in Italy and we should be here like we were in the past, sitting in mud, they [foreigners] will arrive here and tell us: 'Oh, what a wonderful people; you are sitting in mud, but still feed us free of charge and smile; you have good police.' But they do not understand, that… the country is being built because the police are good and because the state apparatus is functioning."
"You'll see, we will catch up with Holland and others too and we will even outstrip them," Saakashvili said. "Of course it requires time and patience."