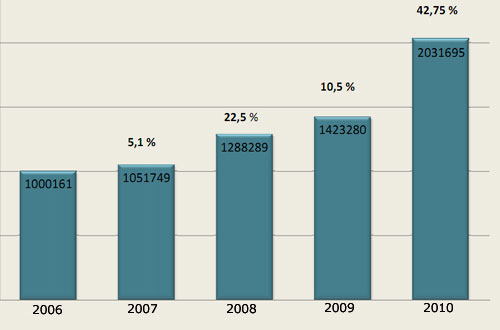 Figures from the official statistics show number of entries into Georgia by foreign citizens per year starting from 2006 and percentage change The figures represent an aggregate number of entries into the country without breakdown by purpose of the visit.
Visits to Georgia by foreign citizens in the first eight months of 2011 increased by 42.6% year-to-year, reaching 1.79 million, according to official figures released on September 8.
This August – the month when number of arrivals by foreign citizens usually picks in Georgia (exception over the last six years was only August, 2008) – figure stood at 355,924 up by 42.2% compared to last year's August, according to statistics released by the Interior Ministry, which is in charge of border management.

According to these figures, showing statistics since 2006, Armenian, Turkish and Azerbaijani citizens made up the largest share in total visits in recent years with Armenian citizens leading pack in 2010 with 547,510 entries into Georgia. Azerbaijani citizens lead the pack in the first eight months of 2011 with 456,282 entries.
There was a significant increase of visits by Russian citizens with the figure almost doubling in the month of August, 2011 to 44,854 over the previous August.
In August, 2011 alone 4,850 visits came from those Russian citizens who reside in the North Caucasus republics, who crossed into Georgia via Zemo Larsi-Kazbegi border crossing point with 84% of them residents of North Ossetia.
In October, 2010 Georgia allowed 90-day visa-free travel for Russian citizens registered as residents of Russia's republics in the North Caucasus, while other Russian citizens were still able to obtain the visa upon arrival in Georgian airports. Starting from July, 2011 Georgian visas became available for Russian citizens not residing in North Caucasus republics at Zemo Larsi-Kazbegi border crossing point too.
There was an upward trend in number of visits made by citizens of EU-member states with figure increasing from 80,734 in 2006 to 110,264 in 2010; the figure stood at 91,296 in the first eight months of 2011.
21,259 entries into Georgia by citizens of Iran were recorded in 2010. The figure increased to 37,287 in the first eight months of 2011. 45-day visa-free travel rules went into force between Georgia and Iran starting from January, 2011.