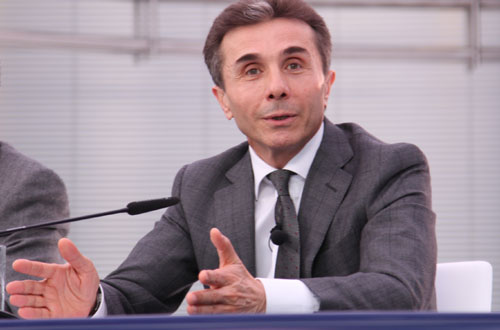 Bidzina Ivanishvili speaking at a press conference on November 1. Photo: Guram Muradov/Civil.ge
Billionaire-turned-politician, Bidzina Ivanishvili, plans to launch his public movement, Georgian Dream, on November 25, his press office said in a statement on Thursday.
"The public movement will be led personally by Bidzina Ivanishvili," the statement says, adding that other members of the movement will become known at a later stage.
Ivanishvili plans to hold inaugural session of his movement in the Tbilisi State Concert Hall (Philharmonic Hall) and his representative will request on November 4 the hall's management to book the hall for the event, the statement said. In 2010 Ivanishvili donated GEL 2.12 million to renovation works in the Tbilisi State Concert Hall, according to the billionaire's charitable foundation.
After being stripped of his Georgian citizenship, Ivanishvili has no right to either form or finance a political party.
Ivanishvili, who now holds French and Russian passports (he has launched procedures for revoking of his Russian citizenship), however, has the right to establish a non-entrepreneurial (non-commercial) legal entity in a form of public movement.
The planned movement is likely meant to be a grassroots movement to serve as a platform for Ivanishvili's political activities.
During his first-ever press conference on November 1, Ivanishvili said that he would try to rely mainly on "new faces" while building his political party.
"There will be new faces, maximally as possible," he said.
Ivanishvili also said that he would manage to regain his Georgian passport with the help from the Georgian people and international community.
"I want to assure you that the Georgian population together with the international community will manage to force Saakashvili to restore my Georgian citizenship. But if it fails to happen we have parallel plans, but the result will be the same in both ways – we will come into power through elections and change Saakashvili's government through elections," he said without going into details of "parallel plan".
He also reiterated desire to cooperate closely with Irakli Alasania's Our Georgia-Free Democrats (OGFD) and Republican Party, led by Davit Usupashvili.
Ivanishvili, who in his one of the written statements last month slammed several political parties as "pseudo opposition", also said on November 1, that he wanted to cooperate with parties other than Republican and OGFD; he did not name any specific political party. He, however, also made it clear that cooperation did not mean forming a joint political party or electoral bloc.