'I will not hide if protection of votes is needed';
Cooperation with Burjanadze possible;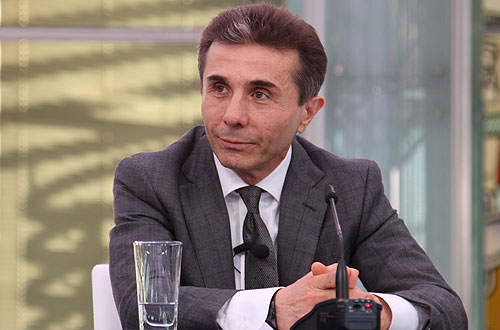 Bidzina Ivanishvili speaking at a press conference on November 1. Photo: Guram Muradov/Civil.ge
Billionaire-turned-politician, Bidzina Ivanishvili, said he may put his 19-year-old son as a nominal leader of his planned party that would help him to bypass legal hurdles as after losing the Georgian citizenship he personally now has no right to either establish or finance a political party.
As a first step to formalize his political activities, the billionaire philanthropist intends to launch a public movement, Georgian Dream, on November 25. Ivanishvili, who now holds French and Russian passports (he has launched procedures for revoking of his Russian citizenship), has the right to establish a non-entrepreneurial (non-commercial) legal entity in a form of public movement.
"We have already announced that we are establishing a public movement on November 25 – I have the right to do that even as a citizen of France. Several days later… we will establish a political party too, but without my participation; one of my closest relatives or probably my [elder] son, Uta, will emerge together with a team and that's how my surname, Ivanishvili, will be voiced," Ivanishvili said in a lengthy interview with the Georgian weekly, Kviris Palitra, recorded on November 5 and published on November 7.
He also made it clear that his son's possible involvement would only be nominal and it would only aim at settling party's financing issues and also to make it visible that it is Ivanishvili's party.
"Uta can be in politics just to resolve the issue of [party's] financing and to voice the surname – Ivanishvili," he said.
In the same newspaper interview, Ivanishvili also reiterated that he was against of street protest rallies, but also indicated that he "will not hide" in case there's need for "protection of votes".
But he also said that he was sure no such scenario would be needed, because the margin of victory for his political force would be so high that it would be impossible for the authorities to change the result through ballot rigging.
"If we, the Georgian population together with the international community, fail to force Saakashvili to get back on legal track and he does not restore my Georgian citizenship, that won't change much the overall situation. The most important is to make a right orientation and the votes will be correctly distributed; the result will be the same – Saakashvili will fail to receive many votes, they have this illusion in vain… One can't make 5% into 55%. Neither the Georgian people, nor the international community will support that," Ivanishvili said.

"That's why I do not want in principle going into street [for protest rallies]. But in certain circumstances we will definitely protect the votes. If you mean that I will hide somewhere in case of total ballot rigging, that won't happen – we will definitely protect the votes. But I am sure that the margin [of victory in elections] will be so large and the [ruling party] National Movement will show itself so poorly that there will be no need for that [protecting votes through street protests]," he said.
Asked whether it meant that he was counting on high voter turnout to get as much votes as possible to make ballot rigging in fact impossible, Ivanishvili responded: "Yes, of course."
"See what an excellent example it is: no one has called on people for help, but after seeing injustice… people started opening bank accounts in support of Cartu Bank [owned by Ivanishvili]. I feel that support very well," he said.
He reiterated that his planned political party would have partnership with two opposition parties – Republican Party, led by Davit Usupashvili and Our Georgia-Free Democrats, led by Irakli Alasania. Probably referring to possible electoral bloc to run in the parliamentary elections on the joint ticket, he also said that "there will be some kind of union" with these two parties, but no merger with them.
He also said that he would like "to cooperate with the entire opposition spectrum." Ivanishvili said that his initial assessment of the Georgian political landscape was right when he divided parties into "real, healthy opposition" and "pseudo opposition".
"The processes taking place in the pseudo opposition parties will further deepen. It seems that I made correct analysis of the Georgian political spectrum," he said.
Ivanishvili was referring to recent developments in the New Rights, Labor Party and the Georgian Party. Davit Saganlidze has quit his post of the New Rights general secretary, citing major disagreements over the key policy issues with the party's rest of the leadership; he, however, said was remaining the New Rights member. Nestan Kirtadze, one of the leaders of the Labor Party, quit the party citing disagreements with the party leader Shalva Natelashvili, who has been strongly criticizing Bidzina Ivanishvili. It was also reported that ex-public defender, Sozar Subari, has already quit or intends to quit the chairmanship of the Georgian Party; there has not been confirmation of this report from Subari personally.
Ivanishvili also said that it was possible to cooperate with ex-parliamentary speaker, Nino Burjanadze, whose Democratic Movement-United Georgia party was behind the street protest rallies this spring.
"The major difference that exists between us is that Nino Burjanadze prioritizes street protest rallies; but I rule that out. There are some other questions in her address, but I think we will be able to remove these questions, to agree our positions and to definitely cooperate with Nino Burjanadze… She has a good experience of working in the Parliament in the government," Ivanishvili said.