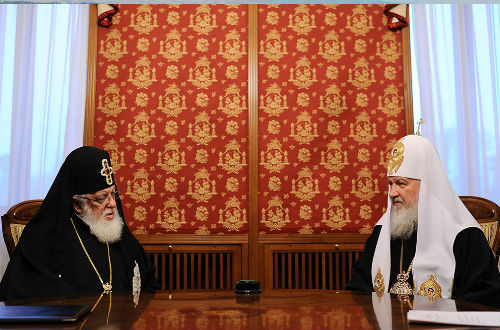 Georgian Patriarch Ilia II (left) and Russian Patriarch Kirill (right) during a meeting in Moscow on November 19. Photo from the Russian Orthodox Church's website.
Patriarch of the Georgian Orthodox Church, Ilia II, met with Russian Patriarch Kirill in Moscow on November 19.
The Georgian Patriarch is in Moscow to participate in celebration of Russian Orthodox Church leader's 65th birthday.
"Conversations with you are always a pleasure for us - no matter whether they take place in Moscow or in Kiev, as it happened this year, because... any opportunity to communicate with you definitely brings good results," Patriarch Kirill said.
One of "the good results" that the communication between the two Churches should bring, Patriarch Kirill said, was improvement of relations between Georgia and Russia and people of the two countries.
"These are the two nations with the same faith; they are neighbors, who have lived together for centuries. Even when they lived in different political systems and in separate countries, as well as in the times when they lived in the same state, Orthodox Russians and Orthodox Georgians were invariably tied with warm friendly feelings. We are praying and we are working to return this love, because we believe that no external difficulties can destroy foundation of our relations, because the foundation is that they belong to the Holy Orthodox Church," the Russian Patriarch said.
Georgian Patriarch Ilia II said that close relations between the Russian and Georgian Orthodox Churches represent "firm foundation for our states, governments - they should follow example of our Churches." He also said: "We deeply respect Russian history, literature, art, philosophy."
According to a press release by the Russian Orthodox Church, the Georgian Patriarch expressed confidence during the meeting that "misunderstanding, which occurred between our states, are possible to overcome."
"We - the Patriarchs and Churches - should spare no efforts to help peace and well-being to prevail. Conflicts between our states remain open wounds; they should be healed. I think we will be able to do that," the Georgian Patriarch said.
On November 20 Russian President met with heads and delegations of the Orthodox Churches, among them the Georgian Patriarch, visiting Moscow for the Russian Patriarch's 65th birthday celebration.
"Unity of the Orthodox [Christian] world is very important component of international development… Despite the fact that there might be difficulties between the states, despite global problems, including of economic and ideological nature, the Church can serve as the only institution, which binds communication between the peoples and helps in difficult times."