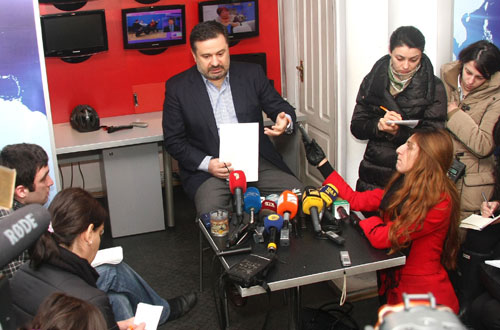 Erosi Kitsmarishvili speaks at a news conference in Maestro TV office on December 2. Maestro TV journalist, seen in red coat, holds a mobile phone through which Kitsmarishvili's voice was transmitted live to Maestro radio station's studio from where it was aired on the channel. Maestro TV journalists who left the office late last night and relocated in the Maestro radio station's office at a separate location, are not currently able to produce regular news programs or news stories. Photo: InterPressNews
Maestro TV, plagued in a standoff between owners and the managing firm, continued limited broadcasting on Friday with scarce programming resources from a studio of its affiliated FM radio station.

The channel, which is available via cable networks, is mainly capable of airing type of a talk show with an anchor and a guest in the radio station's studio – topic of discussion with every guest is developments surrounding the TV station. The channel can not produce its regular news programs; a newscaster is only reading out a text without accompanying footage.
Erosi Kitsmarishvili, founder of the Maestro TV's managing firm, claims no one but his company, as a holder of the channel's management rights, is authorized to carry out Maestro TV's broadcasting.
He filed an appeal to the Georgian National Communications Commission (GNCC) requesting the regulator to intervene and ask the cable networks to stop carrying Maestro TV's broadcasting signal.
GNCC, however, said it was beyond its competence to give such instruction to cable networks.
"GNCC has never been interfering in cable operators' affairs. Cable operators, based on agreement with broadcasters, define independently the list of channels they are carrying [via cable]," GNCC said in a statement on December 2.
Kitsmarishvili, who convened a news conference in the office of the Maestro TV, vacated by the channel's owners and journalists late last night, said on December 2, that he would continue dispute with the channel's owners in the court. Owners of Maestro TV also said that they would try to resolve the dispute through court proceedings as they seek withdrawal from a three-year contract with Kitsmarishvili's firm, Rustavi Media Management Company (RMMC). The contract with RMMC was signed in November, 2009.
Mamuka Glonti, a co-owner of the Maestro TV, said efforts were now made to set up a new studio in a new office; he estimated that the Maestro TV would be able to continue broadcasting from new studios from early January.
Kitsmarishvili claims, that as a representative of the managing firm, he is authorized to control the entire TV station's assets, including its broadcasting license. He indicated that he would manage to convince cable networks to stop carrying Maestro TV's current signal and replace it with "the only legal broadcasting signal" which would come from the channel's office, which he is now in control of.
Hypothetically, if Maestro TV's owners lose the battle with Kitsmarishvili, they probably can count on a broadcast license which is owned separately by the Maestro TV's general director Bacho Kikabidze.
A company called Igrika, wholly owned by Kikabidze, obtained from Georgian National Communications Commission a broadcasting license on September 9, 2011. The form of license is similar to the one of the Maestro TV and allows a potential TV channel to air political programming and news via cable networks. It, however, will have no right to broadcast via satellite. Igrika filed an application to GNCC with a request to obtain satellite broadcasting license. GNCC is scheduled to discuss the application on December 12.
Bacho Kikabidze says that his firm's broadcasting license has nothing to do with Maestro TV's developments. "I am not going to use Igrika's broadcasting license for Maestro TV," Kikabidze told Civil.ge on December 2, adding that Maestro TV would be able to continue broadcasting with its existing license, as its owners had all the legal rights to do so despite of Kitsmarishvili's claims.
Under the broadcast license terms, which Igrika holds, it should start broadcasting within ten months after obtaining the license.
Hidden Hand Behind Maestro TV Row?
Standoff over Maestro TV is accompanying by a speculation that recent developments might be more than simply an internal dispute between its owners and contracted managing firm.
Maestro TV co-owner Mamuka Glonti has been repeatedly accusing Erosi Kitsmarishvili of acting with the backing of the authorities aimed at seizing control over the channel, which is one of the two Tbilisi-based television station's critical of the authorities.
Kitsmarishvili, who rejects such allegations groundless, have suggested for number of times that the co-owners of the Maestro TV actively launched efforts to sideline him and his managing firm from the TV station's affaires after a billionaire philanthropist Bidzina Ivanishvili announced about going into politics and after he publicly said he was willing to temporarily purchase Maestro TV under lucrative terms.
Kitsmarishvili said on December 2, that Glonti met with Ivanishvili on November 13.
Glonti confirmed meeting with Ivanishvili and said that during the 15-minute meeting Ivanishvili offered his "assistance."
"I told him that if he was willing to provide assistance I would be grateful," Glonti said, adding that he would accept assistance for the TV station from anyone on the conditions that in exchange a donor would not require interference in the editorial policy.