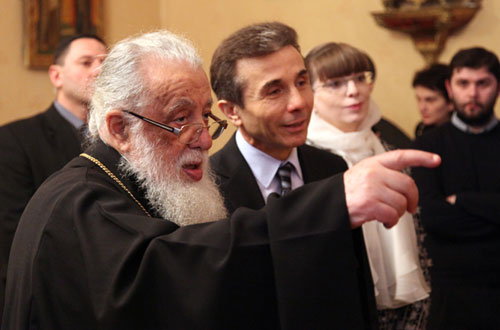 Patriarch Ilia II in his residence shows Bidzina Ivanishvili and his wife Ekaterine Khvedelidze a new, large triptych-type icon. Photo: Ivanishvili's press office.
Head of the Georgian Orthodox Church, Ilia II, met on December 24 in the Patriarchate with billionaire philanthropist Bidzina Ivanishvili for the second time since the latter went into the politics.
"I will tell you briefly about developments since our last meeting [in November]," Ivanishvili, who came to the Patriarchate together with his wife Ekaterine Khvedelidze, told the Georgian church leader. "As you know we have established a public movement… [The inaugural assembly] of the public movement went quite well; there was a huge public interest towards the event; we were not allowed to hold the [assembly] at a larger venue… We are now starting and speeding up opening of [the public movement's] branches in the regions; probably by the end of January we will cover entire Georgia; everything will be as the god wishes and as it is in your prayers and as the Georgian population wishes, despite of the fact that people who are now in hysteria are resorting to hooliganism trying to create obstacles."
"Of course there are and will be difficulties; life consists of difficulties, but they should not frighten us," responded Patriarch Ilia II, who then showed to Ivanishvili and his wife a new, large triptych-type icon made of precious metals and incorporating images of hundreds of saints.
Next day, on December 25, when the Patriarch was marking 34th anniversary of his enthronement, Ilia II personally showed in the Holy Trinity Cathedral the same icon to President Saakashvili, who attended the Patriarch's Sunday sermon together with the first lady Sandra Roelofs and their six-year old younger son Nikoloz.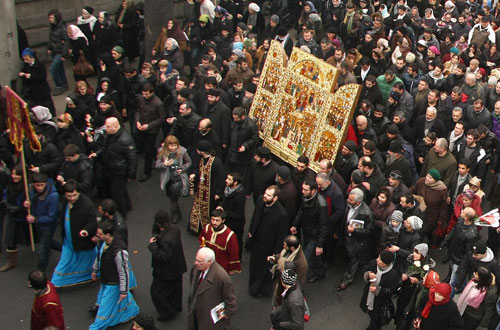 Orthodox believers carry a new, large triptych-type icon made of precious metals and incorporating images of hundreds of saints to the Holy Trinity Cathedral on December 24. Photo: InterPressNews
Other senior officials, including Tbilisi Mayor, Gigi Ugulava, were also present at the Patriarch's Sunday sermon; Ivanishvili and other political figures, including leader of Christian-Democratic Movement MP Giorgi Targamadze, were also present.