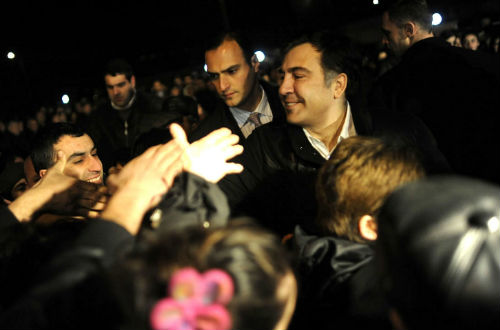 Saakashvili greets locals in Gardabani, January 5. Photo from President's website.
Georgia moves forwards and no one will be able to throw the country back into the past, President Saakashvili said on January 5 while addressing a group of locals outside the newly built hospital in Marneuli, a town in Kvemo Karti region.
Saakashvili has been travelling intensively in various parts of the country in recent weeks, during which he has opened over dozen of new medical centers in the provinces, built by the insurance companies. Later on January 5 Saakashvili was in two other towns of Shida Kartli region - Bolnisi and Gardabani; there too Saakashvili visited two newly built hospitals.
Saakashvili said in Marneuli that infrastructure development throughout the country, including building of new hospitals, was "the right implementation of an idea of equality", because it was helping to eradicate perception of "second-rate" towns.
He also said that in the past "only millionaires and billionaires could afford to have a treatment in hospitals like this one."
"We are not billionaires and millionaires, but we have dignity and we need the best possible healthcare and education and better life and we will build this better life together with you," Saakashvili said.
"Our every-day work is for you. I am not thinking about what someone arrogant or a well-known person will say about me, or what foreign [countries] will say – although our country has a high reputation. Our country has this reputation because its government thinks about people, serves the people and it has eradicated the corruption," he said.
"No one will be able to take it away from us and no one will be able to turn us back into the past, because no matter how much they may want to turn us back into the past Georgia's society is not a horse to put a bridle on it to make it turn; if someone tries it, a horse will throw such rider. We are the society full of dignity, which moves forward," Saakashvili said.
Also in Marneuli Saakashvili visited a newly built glass facade building of a police station and also visited a nearby constriction site of Justice House, a one-stop center for services provided by the Justice Ministry.
After looking at a banner at the construction site, depicting picture of planned Justice House, Saakashvili said jokingly by pointing finger in direction of the police station's building across the street: "Looking at that glass police building, I am thinking about appointing [the Interior Minister] Vano Merabishivli as the country's chief architect, because he builds very good police [stations]… But now I see that [Justice Minister Zurab] Adeishvili is more suitable for that post."
Looking at the banner he said it was like "surreal" to have such a modern building in Marneuli.
"Look, it is so beautiful; this is a new epoch and no one will be able to reverse it," he added.