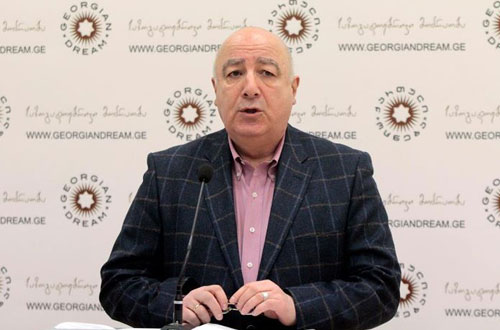 Tedo Japaridze speaks with journalists in the office of Ivanishvili's public movement, Georgian Dream, in Tbilisi on January 23. Photo: public movement Georgian Dream's press office
Tedo Japaridze, a veteran Georgian diplomat and former foreign minister, has been named by billionaire opposition politician Bidzina Ivanishvili to lead his foreign policy team – one of those sector working groups Ivanishvili has been establishing recently to address issues ranging from economy to culture.
Japaridze, who was Georgia's ambassador to the United States for over seven years till 2002, until recently was with the Azerbaijan Diplomatic Academy. He served as secretary of National Security Council under ex-president Eduard Shevardnadze's administration before being promoted to the post of Foreign Minister after the Rose Revolution in November, 2003. He held the post for four months till March, 2004.
He was an alternate director general of International Centre for Black Sea Studies (ICBSS), the Athens-based think-tank affiliated with Organization of the Black Sea Economic Cooperation (BSEC), before the Georgian Foreign Ministry dropped its endorsement for Japaridze's candidacy to retain the post, followed by his dismissal from the Georgian diplomatic corps in 2011 in what Japaridze said was "a diplomatic-political vendetta" for his critical views of the Georgian government.
"My intention now is to join the ranks of the opposition, specifically Bidzina Ivanishvili, a new face on Georgia's landmined political landscape, in view of the forthcoming parliamentary and presidential elections," Japaridze wrote in an opinion piece for openDemocracy on January 20.
Japaridze told journalists on January 23, that his foreign policy working group "will have several key directions, involving relations with the Euro-Atlantic space as a whole – EU, NATO; our closest neighborhood – Turkey, Azerbaijan, Armenia."
"Special attention will be paid to understanding where we stand and what the prospects for relations with Russia are… I think that as far as we build our work on pragmatism, realism and adequate understanding of the existing situation, some ways should be found to sort out relations to some extent with this country [Russia]," Japaridze said.