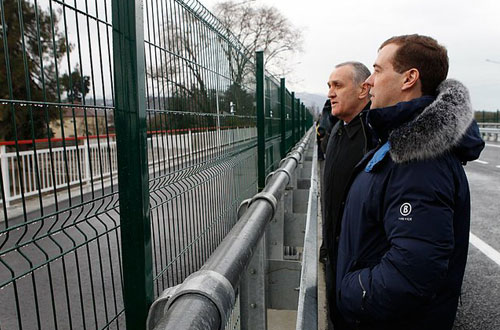 Russia's President Dmitry Medvedev and Abkhaz leader Alexander Ankvab at the reconstructed border crossing point "Adler" on the Psou River on the Russian side of the border, January 24. Photo: Kremlin website.
Russia's President Dmitry Medvedev, accompanied by Abkhaz leader Alexander Ankvab, toured a newly reconstructed border crossing point with Abkhazia at Psou river, which has increased capacity capable to handle larger traffic to put an end to long queues especially during summer holiday season, Russian and Abkhaz news agencies reported.
"It has been constructed quickly; everything is in civilized way, corresponding to the requirements, including those of WTO," Medvedev was quoted by Russian and Abkhaz news agency as telling Ankvab, while touring the new infrastructure at border crossing point "Adler" on the Russian side of the border not far from Sochi.
Medvedev also said that focus should be made on infrastructure capable to handle increased flow of traffic across the border.
Ankvab responded that border crossing procedures would be carried out much faster and there would be no long queues anymore.
Part of the new border crossing point, designed to handle traffic of vehicles, which also includes a new bridge, will be opened on January 25 and a separate part of the crossing point for pedestrians will be put into operation in February.
The renovated border crossing point includes six lanes for vehicles; three separate lanes for cargo trucks and one for tourist buses. It is designed to handle at least 1,500 vehicles, including 150 cargo trucks, per day, according to Itar-Tass news agency.