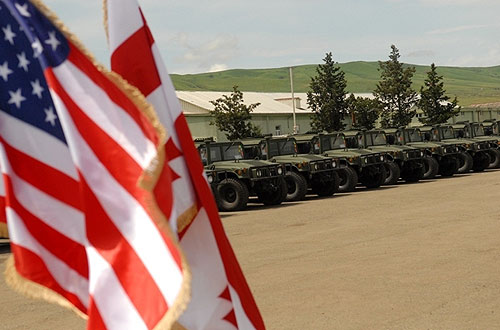 The U.S. donated forty Humvee vehicles to the Georgian MoD, Krtsanisi training center outside Tbilisi, June 7, 2011. Photo: Georgian MoD. U.S. Republican Sen. John McCain, who strongly backed Georgia-related provision in the U.S. defense authorization act, said on December 15, that U.S. defense cooperation with Georgia "has been stalled ever since Russia invaded" Georgia in 2008. "While there has been some slow and minor progress to enable Georgia's armed forces to deploy to Afghanistan… precious little has been done to strengthen Georgia's ability to defend its government, people, and territory," McCain said.
Assumptions that defense cooperation between Washington and Tbilisi has been downscaled in recent years are "almost completely made up" and "erroneous", Giga Bokeria, secretary of Georgia's National Security Council, said.
He said in an interview with the Georgian weekly magazine, Tabula, that President Obama's reservation over a section of the U.S. National Defense Authorization Act, which calls for "normalization" of military cooperation with Georgia, including the sale of defensive arms, was more a legal issue about constitutional authorities of legislative and executive branches and it should not be interpreted as if the Obama administration was against deepening defense cooperation with Georgia.
In his signing statement on December 31, President Obama listed the provision of the defense authorization act dealing with Georgia, among those sections of the Act, which he would treat as "non-binding" should any application of the provision conflict with his constitutional authorities. President Obama cited two reasons behind his decision; the statement said that these provisions of the Act could interfere with the President's constitutional foreign affairs powers and also said that these provisions "could be read to require the disclosure of sensitive diplomatic communications and national security secrets."
"We are very grateful to all of our supporters including those in the U.S. Senate who have supported this kind of provision [in the defense authorization act] on deepening military cooperation with Georgia; they are our long-time friends," Bokeria said.
"At the same time, I want to say, that speculation as if a reservation made by President Obama's administration was particularly about Georgia is simply a result of not knowing this issue by those who made such comments. It was not about any particular country; this is about jurisdiction – that is whether the Congress has right… to indicate to the executive, in this case to the President, what kind of policy should be carried out on the issue [defense cooperation]… So it was not about that they do not support deepening of defense cooperation with Georgia," he said.
"Narrative as if there has been kind of a downgrade in [the U.S.-Georgia] military cooperation in recent years is almost completely made up," he continued. "On the contrary, there is a trend of deepening of cooperation [in the defense sphere]. We may want further deepening of this cooperation at faster pace and that's natural and we will discuss these issues [during planned Obama-Saakashvili meeting at White House on January 30]."
"This cooperation is deepening and it involves, among others, cooperation in Afghan operation, which is important for global security and for our own security and also involves cooperation beyond the one of Afghanistan. Yes, training [of Georgian troops by the U.S.] has been significant part of this cooperation, but that's not the only sphere where cooperation has been and is ongoing and has even deepened recently; I do not want to speak about all the details, but portraying a picture as if there has been a stagnation or movement backwards [in defense cooperation] is erroneous."
"We are grateful to everyone, including those within the U.S. political spectrum, who supports further deepening of this cooperation. At the same time we are grateful for cooperation that we have with the [Obama] administration," Bokeria said.
"The issue of jurisdiction between the legislative and executive branches in the United States is important and interesting, but it's not up to us to comment on that," Bokeria said, adding that as stated in the White House statement, defense cooperation would be one of the key issues discussed at the upcoming meeting between Obama and Saakashvili.
U.S. Assistant Secretary of State for European and Eurasian Affairs, Philip H. Gordon, said at a news conference in Washington on January 9, that the U.S. approach on military cooperation with Georgia remains focused on education, training and preparing Georgian troops for Afghan deployment.
Asked if the administration was going to implement a Georgia-related provision in the U.S. National Defense Authorization Act for Fiscal Year 2012, Gordon responded: "I don't think it changes our approach so far."
"Where specific weapons sales are concerned, we treat it like we do with other countries. They're taken a case-by-case basis, taking a lot of factors into account. But we'll continue that security relationship with Georgia in all of those ways," Gordon said.