'Int'l recognition of Sokhumi, Tskhinvali not going well for Moscow'
FM thanked some EU states for recognizing neutral travel documents
'Confidence towards elections increased, electoral environment improved'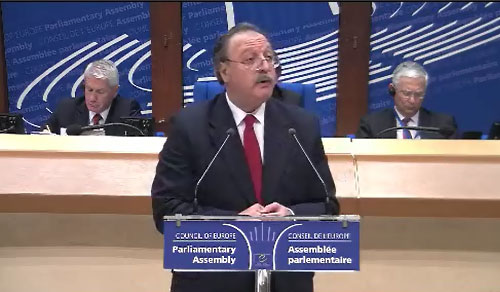 A screengrab of Georgia's Foreign Minister Grigol Vashadze speaking at the sitting of Parliamentary Assembly of Council of Europe (PACE) in Strasbourg on January 25.
Georgian Foreign Minister, Grigol Vashadze, accused Russia on January 25 of trying "to kill" Geneva talks, launched after the August 2008 war.
"Unfortunately Geneva talks are stalled in both working groups, because our Russian partners are explicitly refusing to discuss security arrangements in the first working group and they are explicitly refusing to discuss voluntary, dignified and safe return of IDPs and refugees in the second one," Vashadze told the Parliamentary Assembly of Council of Europe in Strasbourg.
Geneva talks involve a format of two working groups with the first one discussing security-related issues and the second one - humanitarian issues. Talks, co-chaired by EU, UN and OSCE, involve negotiators, or as they are formally referred "participants", from Georgia, Russia and the United States, as well as from Sokhumi and Tskhinvali. In respect of international security arrangements, discussed in the first working group, Georgia says its aim is to achieving presence of international police and peacekeeping forces in Abkhazia and South Ossetia.
Vashadze said that Geneva talks "are indispensable".
"Our Russian partners are trying to decrease the frequency of our meetings there [in frames of Geneva Discussions]; we started from meetings at least once a month… now we are meeting each other once in three months; the next stage will be meetings once in six months and then they will kill those negotiations and we simply can not afford to do that," the Georgian Foreign Minister said.
Another aspect of security arrangement, discussed during the Geneva talks, is non-use of force commitment, which Georgia has already unilaterally undertaken; Russia refuses to reciprocate, citing that it is not a party into the conflict.
"So far either we have been receiving a very firm No [from Moscow on non-use of force pledge], or we have been answered by military exercises," Vashadze said, particularly referring to Kavkaz-2012 drills, which Russia plans reportedly in September with participation of military units from Abkhazia and South Ossetia too.
"Primary reason of this military exercise is to work out the plan – by the way exactly the same way as in 2008 – how to occupy the remaining Georgia," the Georgian Foreign Minister said.
EU's special representative for the South Caucasus and co-chair of the Geneva talks, Philippe Lefort, met with Abkhaz senior officials in Sokhumi on January 24 to discuss, among other issues, the next, nineteenth round of Geneva talks planned for March 28-29.
The Georgian Foreign Minister also said that Georgia hoped WTO deal with Russia could have served as a foundation for building "if not better relationship, at least better understanding between Georgia and Russia."
"Unfortunately this did not happen," Vashadze said.
He made the remarks during a question and answer session after addressing the members of Parliamentary Assembly of Council of Europe. Most of the questions were about Georgia's ties with its breakaway regions and Russia.
'Int'l Recognition of Sokhumi, Tskhinvali Not Going Well for Moscow'
The Georgian Foreign Minister also said that Moscow's attempt to achieve international recognition for Abkhazia and South Ossetia was costing a lot of money to Russian taxpayers.
"This process is not going quite very well for our Russian friends I should say," Vashadze said. "I think it is costing a lot of money to Russian taxpayers, because [the smallest island nation] Nauru was paid 50 million dollars for that recognition," Vashadze said.
He said that Georgia was refusing to engage in "cheque-book diplomacy" and to try preventing recognition of Sokhumi and Tskhinvali by bidding "more money on the table".
"That's absolutely out of question," Vashadze said. "The international community and the international law are on our side and we will prevail notwithstanding how many Pacific island countries will recognize [Abkhazia and South Ossetia's] so called independence."
Next week Russia's Foreign Minister will start his trip to number of countries in the Asia-Pacific region, among them, Fiji. The Sydney Morning Herald reported on January 25, that before visiting Fiji, the Russian Foreign Minister will meet his Australian counterpart, Kevin Rudd, who is expected to ask that Russia maintain transparency in its Pacific dealings. This is because of concerns that Lavrov's visit may be in part to lobby Fiji to accept the independence of South Ossetia and Abkhazia, the Sydney-based daily reported.
Foreign Minister Vashadze visited New Zealand, Australia and Fiji last autumn. Following the visit, local media in Fiji reported that the Georgian Foreign Minister pledged 105 Classmate personal computers for students in this Pacific island nation, as well as to allocate six places for students from Fiji at the Tbilisi State University and Tbilisi State Medical University.
President Saakashvili said on January 20, that Russia had recently "sent emissaries to Africa, offering hundreds of millions in bribe to countries in Africa, including offering pocketing tens of millions in bribe to certain officials from governments of some countries in Africa in exchange of recognizing our occupied territories."
Russia's presidential special envoy for Africa, Mikhail Margelov, who has recently visited several countries in Africa, including Nigeria, Mali, Mauritania and Morocco, said Russia had never offered money to its partners in Africa in exchange for recognition of Abkhazia and South Ossetia.
The most recent recognition of Sokhumi and Tskhinvali came from the tiny South Pacific island nation, Tuvalu, is September, 2011, which a year earlier received USD 12,000 in aid from Georgia. Apart of Russia, Sokhumi and Tskhinvali are also recognized by Nicaragua, Venezuela and Nauru.
Status Neutral Travel Documents
In respect of the breakaway regions, Vashadze said Tbilisi was trying to pursue its policy of engagement envisaged under Georgia's State Strategy on Occupied Territories and Tbilisi was open for humanitarian projects. In this context he mentioned Georgia's status neutral travel documents introduced last year for resident of the breakaway regions.
"I am very thankful to several European states, including the Czech Republic, Lithuania etc., which already gave their consent to recognize that document," Vashadze said.
On January 18 Abkhaz leader, Alexander Ankvab, said at a meeting with the breakaway region's foreign ministry leadership that Sokhumi should to cut cooperation with and "expel" those international organization or NGOs which would be offering residents of Abkhazia to take Georgia's neutral travel documents for trips abroad, adding that Sokhumi would be "insisting" on Abkhaz passports to be accepted by the international community.
According to the Georgian State Ministry for Reintegration, up to fifty neutral documents have been issued since November, 2011.
'Electoral Environment Improved'
During his address to the PACE, before question and answer session, Vashadze also spoke about reforms in Georgia, saying that "the Georgian government has constantly, day after day struggled to change the old ways of thinking and defeat Soviet mentality."
He said Georgia's "civil society is strong and influential and our media enjoys freedom that is exemplary in the region."
He claimed that with the adoption of new electoral code, including through consultations with the Council of Europe's advisory body for legal affairs, Venice Commission, Georgia "increased confidence towards elections and improved electoral environment."
"By introducing amendments in legislation on political parties in line with the recommendations… of Venice Commission we have significantly advanced in fighting political corruption," Vashadze said, referring to the legislation introducing tightened rules for party funding, provisions of which have been slammed by local watchdog groups for being vague, potentially giving the authorities possibility to misuse the legislation against opponents.

"If anybody would have told me back in 2008 in the aftermath of massive Russian military aggression, that we would have been in such a good shape in 2012, I would have considered this just as a wishful thinking, quite frankly," the Georgian Foreign Minister said.