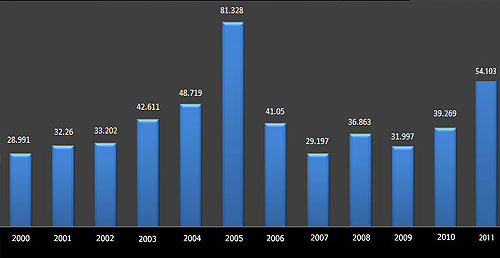 Value of exported Georgian wine by years; all figures in millions of US dollars. Source: the state statistics agency Geostat. Russia banned import of Georgian wine in late March, 2006.
Georgian wine export jumped 37.7% year-on-year in value to USD 54.1 million in 2011, according to official figures from the state statistics agency.
The figure is highest for previous five years or since Russia imposed ban on import of Georgian wines in 2006, but it still lags behind the figure posted in pre-embargo year, when value of exported wine doubled to USD 81.3 million in 2005.
Volume of exported wine reached 16.9 million liters in 2011, up from 12.1 million liters a year earlier, according to the statistics office, Geostat.
Export of wine made 2.5% of Georgia's total exports, which amounted to USD 2.19 billion in 2011.