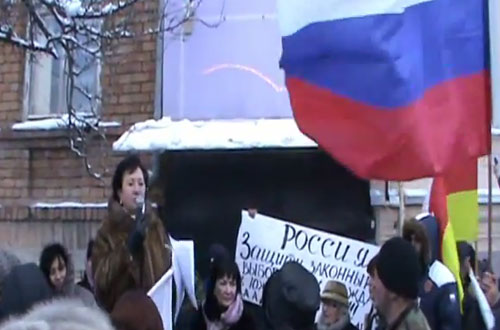 A grab from
YouTube video
showing Alla Jioyeva speaking to few hundred supporters some of whom wave Russian flags at a rally in Tskhinvali on January 28.
Alla Jioyeva, whose victory in breakaway South Ossetia's presidential runoff last November was annulled, said she will inaugurate herself as new leader of the region at a ceremony on February 10.
Two weeks ago Jioyeva announced about quitting a post-election deal and called on the acting leader of the breakaway region "to transfer power" to her.
Speaking at a rally outside her office on January 28 Jioyeva said signing of the post-election deal in December, under which she agreed to cease street protests and run in repeat presidential election set for March 25, was a mistake and accused Kremlin official Sergey Vinokurov, who mediated talks between Jioyeva and the breakaway region's authorities, of "bamboozling" the opposition.
"Mediators, who have arrived from Moscow, in particular Sergey Vinokurov, to put it bluntly, have bamboozled us," she said. "I have shown a very serious political shortsightedness and today I repent before those radical groups [within her supporters], who at the time claimed that we should have stood firm to the end."
"I am telling you with absolute sincerity, that I could have never imagined that such a senior level official [referring to Vinokurov], under whose mediation this agreement was signed, would have simply exploited our tiredness [after two weeks of street protest rallies] and would have made us sign an agreement which was disadvantageous for us. But even this disadvantageous agreement was not implemented," Jioyeva said.
According to the December 9 agreement, Jioyeva ceased two-week long street protest rally in Tskhinvali and agreed to run in the repeat presidential election scheduled for March 25, 2012. In return, Eduard Kokoity, who led the breakaway region since 2001, resigned. Breakaway region's PM Vadim Brovtsev became an acting president to lead the region before repeat elections.
Resignation of Kokoity's two key allies – chief prosecutor and chairman of the supreme court, was also part of the deal. But the breakaway region's Parliament, dominated by Kokoity's ruling Unity party, voted down on December 14 resignation of these two figures.
Jioyeva in December called on Russia, as a guarantor of the deal, to secure its implementation, but Moscow rebuffed the South Ossetian opposition leader's calls, saying it was beyond Russia's authority to influence on the parliament in Tskhinvali.
Jioyeva also said at the rally on January 28, that she would hold an outdoor inauguration ceremony if not allowed to hold it at an indoor venue.
The January 28 rally was held to express support to Russian free-style-wrestling team trainer, Jambolat Tedeev – a fierce opponent of former South Ossetian leader Eduard Kokoity; the latter now chairs the breakaway region's ruling party. After it emerged earlier this month that Tedeev might again try to run for president in the repeat election, his home in Moscow was searched by the Russian law enforcement agencies and he was questioned, but no charges brought against him.
Tedeev wanted to run for president in November, but was barred on the grounds of not meeting residency requirement. After that Tedeev threw his support behind Alla Jioyeva, who at the time said that decided to run after all "the heavyweight" opposition candidates were barred from running. Jioyeva repeated that same position about her motives to run for the president during the January 28 rally.
Meanwhile in Tbilisi, Georgian Deputy Foreign Minister Davit Jalagania said on January 30, that developments in Tskhinvali were part of power struggle between "clans" with all of them remaining loyal to "the occupying power" and these developments would not change anything for Tbilisi.
"But any type of escalation and tension on our territories of course is not positive and we hope it won't happen," Jalagania said.