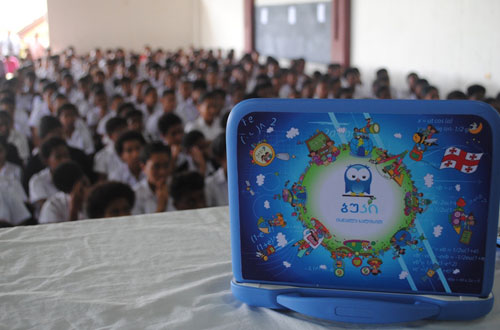 A Georgian-donated netbook, manufactured in a Tbilisi-based factory, seen at one of the public schools in Fiji. Photo from a website of the Georgian Ministry of Education and Science.
The Georgian Ministry of Education has confirmed donating 200 netbook computers to Pacific island nation of Fiji.
The ministry said in a statement on February 1, that netbooks, produced in a Tbilisi-based Algorithm factory, were donated during a visit of the ministry's delegation to Fiji this week.
It also said that the delegation held meetings in the foreign ministry, as well as in the education ministry, adding that the authorities of Fiji thanked the Georgian side "for a timely gift" as Fiji was planning to launch an education system reform this year.
It first emerged about Georgia's plans to donate netbook computers to Fiji in October, 2011 after Georgian Foreign Minister Grigol Vashadze visited the island nation.
The Georgian Education Ministry's statement comes as Russian Foreign Minister, Sergey Lavrov, visits Fiji on February 1. Lavrov said after talks with Foreign Minister of Fiji, that the two sides had agreed to start working on visa-free travel agreement between the two countries, RIA Novosti news agency reported.
Georgian Deputy Foreign Minister, Davit Jalagania, said on January 30, that Tbilisi hoped Fiji would withstand "temptation or pressure" from Russia and would not recognize Abkhazia and South Ossetia.
Radio New Zealand International reported on January 31, that a delegation from Vanuatu, the small island state in the south Pacific, was also expected to visit Fiji, supposedly for a meeting with the Russian Foreign Minister.
Vanuatu recognized Abkhazia in May, 2011 but retracted its recognition shortly after change of government in early June, 2011; but then one local official reportedly reaffirmed the recognition. However, in late June Vanuatu was among those nations who voted in favor of Georgia-sponsored and Russian-opposed resolution in the UN General Assembly reaffirming right of IDPs to return to Abkhazia and South Ossetia. But the statement reaffirming recognition of Abkhazia is still posted on the Vanuatu government's website.
In September, 2010 Georgia allocated USD 12,000 in aid for Tuvalu, the tiny South Pacific island nation; a year later Tuvalu recognized Sokhumi and Tskhinvali.