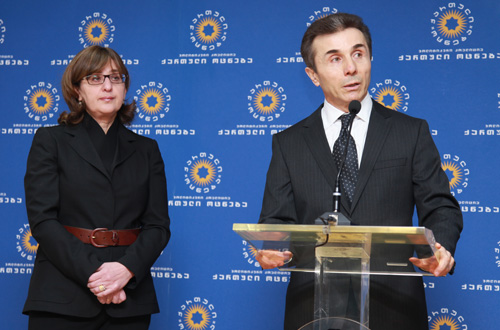 Bidzina Ivanishvili speaks with journalists at a news conference in headquarters of his public movement Georgian Dream in Tbilisi on February 8 during which he presented his new spokesperson Maia Panjikidze (left), Georgia's ex-ambassador to the Netherlands. Photo: Guram Muradov/Civil.ge
Billionaire opposition politician, Bidzina Ivanishvili, called on President Saakashvili to secure free and fair elections and not to try to cling on to power after his presidential term expires; in this case, he said, Saakashvili would be "forgiven" by the Georgian people for his "numerous mistakes," otherwise he would face marginalization both internationally and in Georgia.
He said on February 8, that although he believed chances for the ruling National Movement party to remain a dominant force after the parliamentary elections were "very slim", it was natural for this party to try to win the polls.
"But its leader is a problem," Ivanishvili said referring to President Saakashvili, who is also a chairman of the ruling party.
"He [Saakashvili] should not be aspiring to remain on any serious post," Ivanishvili said, referring to speculations that President Saakashvili will try to retain power by becoming a prime minister, whose powers will be increased after the new constitution goes into force following the expiration of Saakashvili's second and final presidential term in late 2013.
Ivanishvili said that was the message President Saakashvili received during his U.S. visit, when he met with President Obama.
He said it was in the U.S. interests to make Georgia a success story of democracy and "Americans have invested a lot" in this respect in Georgia.
"They want Georgia to keep on building on those positive things that have been done in Georgia, but what is happening in recent years is not in the interests of either Georgian people or of the United States," he said.
Ivanishvili said that "the existing reality that we now have in Georgia is not in the interests of the United States", but the U.S. officials, he said, would not start speaking publicly about it; he argued, that President Obama's meeting with President Saakashvili in the White House demonstrated this attitude.
"Behind the closed doors during the meeting with President Obama, he [Saakashvili] was of course told very precisely, that America will not accept what Saakashvili intends to do –staying in power through tricks; he was told that such a development would be unacceptable for the United States," Ivanishvili said.
In public remarks before the press, Ivanishvili continued, Saakashvili was "praised" by President Obama for the reforms.
"Tough words behind the closed doors and praise before the press – that means that Saakashvili was told: 'If you secure legal transfer of power, you will remain as a reformer for us'. He was given a possibility to save his face and he was told that he has to secure 'formal transfer of power'," Ivanishvili said.
Ivanishvili said that Saakashvili should secure free and fair elections, freedom of media and judiciary and "de-politicization" of the police.
"In this case, I am sure, that the Georgian population – and I think resource still remains for that – will forgive him [Saakashvili] those numerous mistakes which he has made," he said.
Otherwise, Ivanishvili continued, his coalition and the Georgian people would "force him to return to the legal framework."
But such a scenario, he warned, would mean for Saakashvili "destroying his own future" and in this case he would become an unwelcome figure both in the West and in Georgia; Ivanishvili also added, that Saakashvili should stop "burning bridges" before it was not too late.
"That's the best advice I can give him now – return back to the legal framework," he said.
Ivanishvili was speaking at a news conference in the office of his public movement Georgian Dream in Tbilisi, where he presented to the press his new spokesperson Maia Panjikidze, Georgia's ex-ambassador to the Netherlands.
At the same news conference Ivanishvili said that launch of his political party was expected by early April.
Ivanishvili, whose total assets are estimated to be USD 5.5. billion, also said that he was expected to complete selling of his assets in Russia, involving stakes in Rossiiskiy Kredit bank, Doctor Stoletov pharmacy chain, construction and agriculture businesses, by April. He announced about intention to sell his businesses in Russia, which reportedly is third of his total assets, when he declared about intention to go into politics in October.
Ivanishvili said now it was not the best time for selling businesses in Russia, because of unfavorable economic situation there and also because of upcoming presidential elections in Russia. He, however, also said that there were "two and three" bidders for each of his asset in Russia.