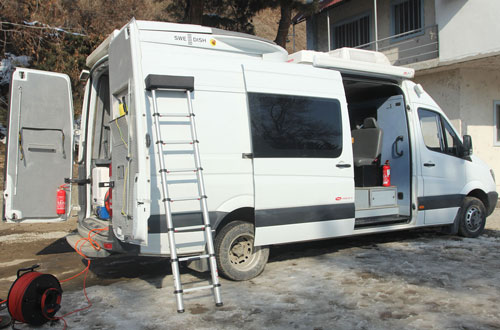 A satellite van intended for Ivanishvili's planned TV channel, February 14. Photo: InterPressNews.
Billionaire opposition politician Bidzina Ivanishvili's office said in a statement on Tuesday, that a satellite van for remote live news reports intended for his planned new TV channel had been "damaged on purpose" while in customs terminal in Georgia.
The van worth of EUR 450,000, involving mobile production control room, purchased from Lithuania-based company, TVC, was shipped to Batumi on February 9. Ivanishvili's press office said in the statement that satellite van was taken for customs clearance, but the authorities did not allow anyone responsible for the cargo or representative from Igrika, a company owned by Ivanishivli's wife which plans the TV channel, to attend the procedures. Five hours later, it said, the satellite van passed the customs control zone, but its equipment was damaged and no longer functioning.
The statement said that there was "reasonable ground for suspicion, that the mobile satellite station was damaged on purpose."
It said that before shipment the satellite van was inspected by SGS, the world's largest inspection services company, which showed that equipment "was in perfect order."
In January Ivanishvili's Cartu Group, a holding uniting the billionaire's Georgia-based companies and charitable organizations, complained that its shipments were subject of thorough scrutiny at customs, not seen before Ivanishvili's decision to go into politics.
On January 6 some executives of the companies from Cartu Group met with representatives of foreign diplomatic missions in Tbilisi and telling them that some shipments for their companies were "deliberately damaged" in customs terminals; at that meeting the representatives of Cartu Group presented conclusions from SGS showing that eight LiveU's portable video-over-cellular transmitters were damaged.
Ivanishvili's press office said on February 14, that the damage of satellite van's equipment was yet another "episode in the violent politics of the government against the Georgian media."