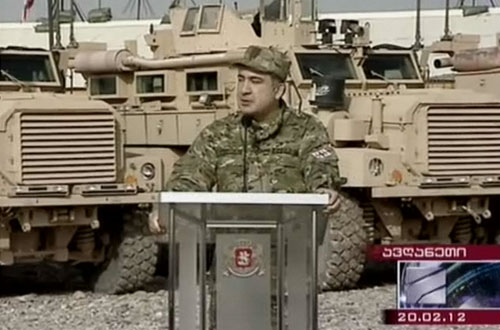 TV grab from Rustavi 2 footage showing President Saakashvili addressing Georgian troops in the Helmand province of Afghanistan on February 20.
President Saakashvili made an unannounced visit to the Georgian troops in Afghanistan on February 20.
In a footage aired by the Rustavi 2 TV, President Saakashvili was seen dressed in military uniform addressing Georgian soldiers at the Combat Outpost Shukvani in the Helmand province, where, according to the TV channel, the President stayed for about two hours.
"What you are serving for here directly amounts to strengthening of the Georgian position, the Georgian armed forces and creating a very solid foundation for Georgia's future," Saakashvili told the Georgian troops in the Helmand province.
"I've visited [earlier this month in a military hospital in Bethesda, Maryland] commander of your battalion, Alexander Tugushi, who was badly wounded [in Helmand]; he is unimaginably brave officer," Saakashvili said.
President Saakashvili also joined soldiers in the army canteen and during the conversation with them he said presence in Afghanistan "gives us unimaginable experience, which we will definitely need, unfortunately."
"If we want to have the country we should have the army and if we want to have the army we should be in Afghanistan – it's very simple; there is no other option," Saakashvili added.

Defense Minister Bacho Akhalaia and Deputy PM, State Minister for Euro-Atlantic Integration Issues Giorgi Baramidze accompanied President Saakashvili on his brief trip to Afghanistan.
"You know, that recently we have reached an agreement according to which the United States will assist us in strengthening our self-defense capabilities," Saakashvili said.

"More assistance is provided to Georgia, because you are here," he told the Georgian troops. "All the attempts by our enemy to isolate us in this sphere [of defense] have completely failed and this too is because of you."
The 31st infantry battalion is now in the Helmand province for its second, six-month deployment.
Georgia has lost twelve of its soldiers since joining ISAF in November, 2009.
Georgia plans to send one additional infantry battalion to Afghanistan on top of 936 Georgian soldiers who already serve there. After the deployment of additional battalion Georgia will become the largest non-NATO contributor to the ISAF.