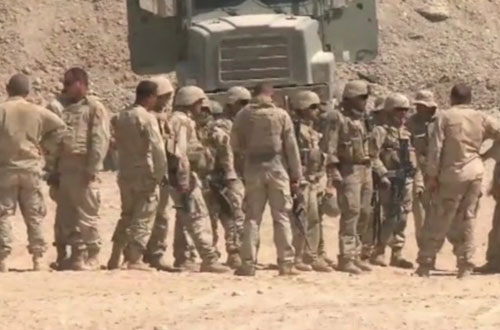 A screengrab from July, 2011 report of NATO's web TV channel showing Georgian soldiers from the 32nd infantry battalion in Musa Qaleh (or Musa Qala) in north of the Helmand province of Afghanistan.
Three Georgian soldiers from the 31st light infantry battalion serving in Afghanistan's Helmand province were killed in combat, the Georgian Ministry of Defense said on February 22.
Corporals Valiko Beraia, Ruslan Meladze and Paata Kacharava "died while they were carrying out combat task," the Georgian MoD said in a brief statement.
"Their combat vehicle exploded following an insurgent attack," it said.
The recent incident puts total death toll of Georgian soldiers in Afghanistan to fifteen – all of them were serving in the Helmand province and four of them died this year.
For Georgian troops the recent one is the largest casualty toll for any single incident since October, 2010 when mine blast killed four Georgian servicemen.
The 31st infantry battalion of the 3rd infantry brigade is now in the Helmand province for its second, six-month deployment.
The battalion was the first Georgian military unit, which was deployed in Helmand to serve alongside with the U.S. marines, in April, 2010; during its first six-month deployment, the battalion lost five of its soldiers.
In his statement of condolence President Saakashvili, who visited Georgian troops in Helmand on February 20, said that death of Georgian soldiers was "a heavy blow" for him.
He also said the sacrifice of the Georgian servicemen "is appreciated" by the Georgian people and "will be even more appreciated by the future generations, because they will live in united, much stronger and more successful country" because of the sacrifice made by the Georgian soldiers in Afghanistan.
Georgia plans to send one additional infantry battalion to Afghanistan on top of 936 Georgian soldiers who already serve there. After the deployment of additional battalion Georgia will become the largest non-NATO contributor to the ISAF.
Georgia's first contribution to the Afghan operation came in 2004 when 50 soldiers were briefly deployed in the country under the German command as part of ensuring security during the presidential elections.
In November, 2009 Georgia deployed 173 soldiers in Kabul under the French command and in following year Georgia increased presence in Afghanistan by sending an infantry battalion in the Helmand province serving along with the U.S. marines.
Last year Georgia also sent 11 military instructors to Kandahar to train Afghan forces in artillery, according to the Georgian MoD.