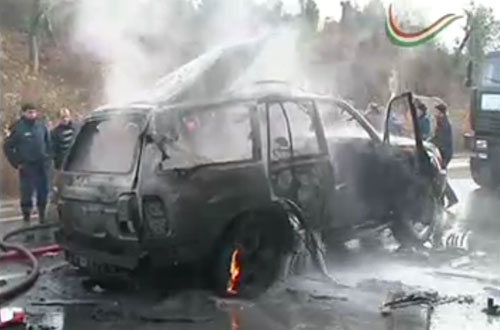 A screen grab taken from the Abkhaz state TV's footage showing a vehicle from the Abkhaz leader's convoy reportedly hit by a grenade in the attack on February 22 outside Gudauta.
Abkhaz leader Alexander Ankvab survived assassination attempt early on February 22, after an attack on his convoy on the road between Gudauta to Sokhumi, Abkhaz news agency Apsnipress reported.
Abkhaz leader sustained no injuries, according to this report, but at least two of his bodyguards were wounded, one of which died in a hospital. Later it was reported that a second bodyguard also died.
According to reports from Abkhazia "a powerful explosive device" went off at about 8:25am local time outside town of Gudauta as Ankvab's convoy was heading to capital Sokhumi.
After the explosion – some reports say it was a remote-control bomb Fugas – the convoy came under heavy fire from machine-gun and grenade launcher.
One SUV in the Abkhaz leader's motorcad, reportedly carrying Ankvab's security guard, was hit by the grenade and burnt down. Apsnipress reported that after the attack Ankvab arrived in his office in Sokhumi unharmed.
Ankvab told The Associated Press in a telephone interview from Sokhumi that two of his bodyguards had died of wounds and a third one had been wounded.
"My car was badly damaged, but I'm feeling OK," Ankvab said.
Security measures were tightened in the breakaway region after the attack and police posts reinforced.
After the attack Russian President Dmitry Medvedev spoke with Ankvab over the phone, the Kremlin said in a press release. It said that the Russian President offered Moscow's assistance in investigating the attack.
This is fifth, or possibly sixth, attempt on Ankvab's life since 2005.
In February 2005 a group of unknown gunmen opened fire on a convoy carrying Ankvab, then Prime Minister, outside Sokhumi. Local television reported at the time, that his car was hit by 17 bullets; Ankvab, however, was riding in his deputy's car and survived unharmed.
Two months later Ankvab again survived unharmed when unknown gunmen opened fire on his convoy near Sokhumi in which Ankvab's driver was wounded.
A roadside land mine, found in June 2007 on a road between Sokhumi and Gudauta, a regular route of Ankvab's convoy, was also believed to have been aimed at him.
In July, 2007 Ankvab was slightly injured with shrapnel after his car came under grenade attack again on the road between Gudauta and Sokhumi.
In September, 2010 Ankvab, who at the time was the breakaway region's vice-president, was wounded in leg and hand after a grenade hit his house in Gudauta.
No one has ever been arrested or charged for those attacks, which Ankvab himself blamed on "internal" Abkhaz forces; he, however, has never publicly elaborated further into details.