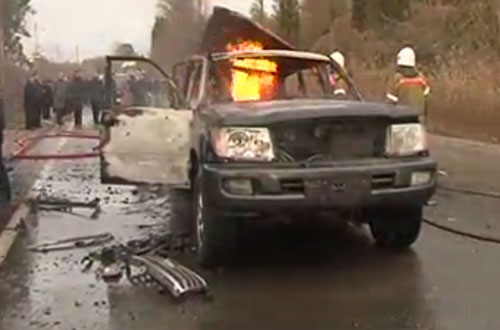 A screen grab taken from the Abkhaz state TV's footage showing a vehicle from the Abkhaz leader's convoy reportedly hit by a grenade in the attack on February 22 outside Gudauta.
Abkhaz official said that authorities in Sokhumi were not inclined towards linking the February 22 attack on Abkhaz leader Alexander Ankvab to Tbilisi.
"The President was obviously a target of this attack. This is sixth attack against him as far as I remember, but we do not tend to attribute it to Georgia," Kristian Bzhania, the Abkhaz leader's spokesman, told Itar-Tass news agency.
Ankvab survived unharmed after his motorcade heading from Gudauta to the breakaway region's capital Sokhumi was attacked by a roadside bomb, followed by fire from machine-gun and grenade launcher on Wednesday morning.
At least one bodyguard of the Abkhaz leader was killed; some reports say that two guards died. One bodyguard is in a critical condition in hospital, according to reports from Sokhumi.
It was fifth, or possibly sixth, attempt on Ankvab's life since 2005. No one has ever been arrested or charged for those attacks, which Ankvab himself blamed on "internal" Abkhaz forces; he, however, always remained noncommittal on discussing details.
Some commentators in Tbilisi have suggested, that the most recent attack, like the previous ones, was probably a result of Ankvab's declared goal to crack down on corruption and crime.
On February 13 Ankvab publicly lambasted senior leadership of the interior ministry for "covering up" crimes and for manipulating with crime stats artificially lowering the figures.
Meanwhile in Sokhumi, about 500 people gathered on February 22 at "a spontaneous rally" to condemn the attack on Ankvab, Abkhaz news agency Apsnipress reported. It said, that speakers at the rally were demanding from the law enforcement agencies to investigate the attack and to bring perpetrators to justice.