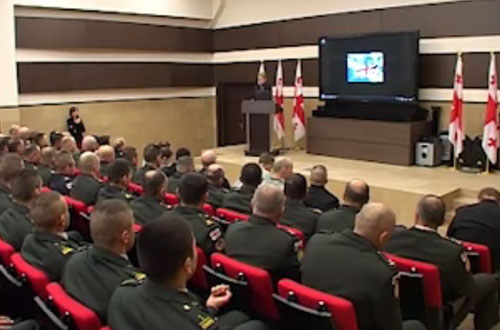 Students and officers at the National Defense Academy in the town of Gori listen to an address by U.S. Deputy Assistant Secretary of Defense for Russia, Ukraine and Eurasia, Celeste Wallander, February 22.
Georgia and the United States are enhancing defense relations by advancing them into "new areas", but it does not mean ceasing working on "the fundamentals of defense institution building" – something that has been focus of the U.S. assistance to the Georgian military in recent few years, U.S. Deputy Assistant Secretary of Defense for Russia, Ukraine and Eurasia, Celeste Wallander, said.
Speaking before students and officers at the Georgian National Defense Academy in Gori on February 22, Wallander said that in addition to preparing Georgian troops for Afghan deployment the U.S.-Georgia defense cooperation had focused over the past three years on "areas such as the development of defense doctrine, the organization of the appropriate structures and systems in the defense ministry and in the armed forces, and the establishment of an effective professional military education program."
"While your work in these areas is not complete, our own assessments, as well as NATO's, indicate that your reform efforts have begun to build a military that is not only more interoperable with the United States and NATO, but also one that is beginning to meet Western and Euro-Atlantic standards of conduct," said Wallander, whose remarks were made available on the U.S. embassy website.
"The Georgian military is in the process of adopting the ethos of a modem, professional military, one that plays an apolitical role in support of your democracy. This transition is vitally important," she said.
She also said that both the Georgian Ministry of Defense and the U.S. Department of Defense were "very pleased with the announcement our two presidents made to enhance our defense cooperation."
"But advancing our relationship into new areas of cooperation does not mean we will cease to cooperate in and focus on the fundamentals of defense institution building that have brought you success thus far," Wallander said without discussing details of "new areas" of cooperation.
"On the contrary, now you must begin to demonstrate mastery of these fundamentals and practice them until they are ingrained as tradition within your military," she said.
She also said that "there are some out there who question the progress being made" by Georgia.
"The most important and most effective step you could take to convince these skeptics is to unequivocally demonstrate that you clearly understand and are capable of the appropriate conduct and the proper role of a military in a democracy," Wallander said.
"This is more important than acquiring any weapons or military hardware, gaining any critical combat skills, or becoming interoperable with any coalition forces. To pass the ultimate test of your Euro-Atlantic integration aspirations, you must demonstrate that the Georgian military understands its role in a fully democratic, European Georgia."
"Nothing, I believe, would undermine support for your NATO aspirations or empower those already skeptical of your European integration more than behavior or activities that are inconsistent with a democratic, modem, European country."
"This year and next year, more than ever, the world is watching Georgia to see if your current reform efforts will support a competitive campaign environment and elections that result in a free and fair democratic transition of power that represents the will of the Georgian people," Wallander added.
She also spoke of those key principles based on which the military in democratic society should be built on, such as consensus within the society on the role and purpose of the military; political neutrality of the armed forces; civilian control over the military and ensuring proper institutional checks and balances.