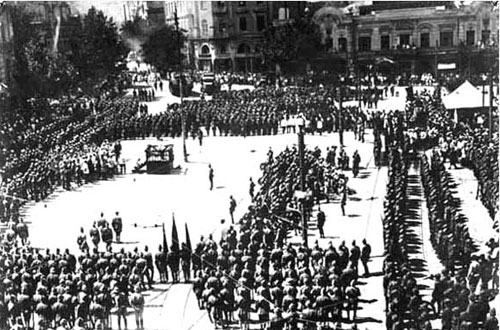 The Bolshevik's Red Army parade in Tbilisi, February, 1921. A Georgian Bolshevik Sergo Orjonikidze led the Red Army's invasion of Georgia ninety one years ago. Photo: courtesy of
Photomuseum.org.ge
Government buildings in Georgia lowered national flags to half-staff on February 25 to mark the day when the Bolshevik's Red Army took over Tbilisi in 1921.
This is the second year when the Day of Soviet Occupation is officially marked in Georgia after the Parliament unanimously passed a resolution in 2010 instructing the government to organize various memorial events on every February 25 to commemorate, as the decision puts it, hundreds of thousands of victims of political repressions of Communist occupational regime.
This year the government held a week long campaign, which among others, also included events aimed at increasing awareness about the events of ninety one years ago among school students, involving special classes and lectures on invasion of the Red Army.
The government was promoting "red poppy campaign" encouraging citizens, including school students to wear poppy ribbons said to be symbolizing remembrance of those fallen in fight against the Red Army. Officials and many lawmakers, as well as newscasters on the Georgian nationwide broadcasters, also wear these ribbons this week.
President Saakashvili is expected to make a public speech later on Saturday in connection to the Day of Soviet Occupation, according to his press office.