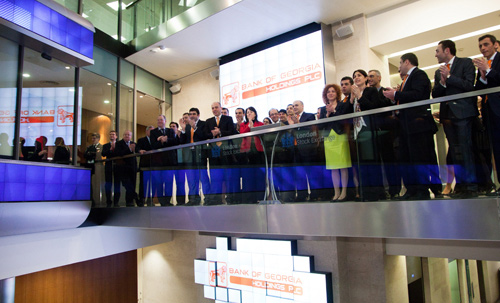 Bank of Georgia Holdings plc (BGH) opened the London Markets in a market open ceremony at the London Stock Exchange (LSE) on February 28. Photo from LSE website.
Bank of Georgia completed on February 28 its premium listing on the London Stock Exchange (LSE).
Bank of Georgia, whose GDRs were listed on the LSE since 2006, is Georgia's largest bank based on total assets with a 36% market share.
"Our primary goal is to increase liquidity of our stock. The Bank of Georgia is 95% free-float and our investors obviously demand higher liquidity and we are tapping larger investment pool," Irakli Gilauri, CEO of Bank of Georgia, told Bloomberg Television on February 28.
According to Gilauri, the bank may soon take place in the FTSE 250, which lists the next biggest firms after the top 100 most highly capitalized companies listed on LSE.
The Financial Times reported that shares in the bank rose 19%, valuing it at £381 million.
The bank's debut on the premium segment follows after incorporating a new holding company in Britain, Bank of Georgia Holdings plc (BGH), which made a formal tender offer to existing investors late last year with ING Bank N.V. acting as financial adviser and sponsor to BGH in connection with the proposed listing.
According to the Financial Times, the Bank of Georgia is the second foreign bank after South Africa-based Investec to have a primary listing on LSE.
Bank of Georgia's CEO Irakli Gilauri said in a statement that the bank "will offer shareholders greater transparency combined with exposure to the fast growing and well regulated Georgian market, which continues to perform well even in current global conditions."
"As the leading bank in Georgia, we offer investors an opportunity to diversify their holdings and benefit from an emerging market with a proven record of sustainable growth," he said.