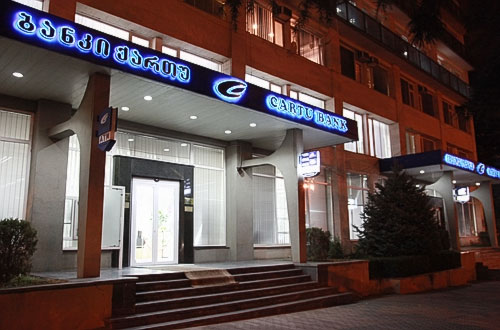 Cartu Bank headquarters in Tbilisi. Photo: Guram Muradov/Civil.ge.
The state audit agency in charge of monitoring political finances has fined Cartu Bank, owned by billionaire opposition politician Bidzina Ivanishvili, with GEL 822,040 (about USD 497,000) for allegedly trying to channel corporate funding to Ivanishvili's public movement Georgian Dream.
Last week two employees of Cartu Bank said they received bonuses of total GEL 82,204 (one – GEL 44,400 and another one – GEL 37,804) from their employer with a purpose to then donate it to the Georgian Dream; the two employees said that they were aware that it would have constituted an attempt to bypass ban on corporate funding and refused to be part of the scheme; as a result no donation was made.
Citing statements by these two employees of the Cartu Bank, the political parties' financial monitoring service at the Chamber of Control said that Ivanishvili's bank was fined (with a penalty ten times the amount of sum involved) for "a transaction, which aimed at bypassing" restrictions set by party funding regulations, which bans corporate funding.
In late February Georgia Dream, one of its donors and the latter's employer firm, affiliated with Ivanishvili, have been fined with GEL 200,000 (about USD 120,000) each for donation which the state audit agency said was a sham transaction aimed at bypassing restrictions set by the political funding legislature.
Earlier on March 12, Ivanishvili-led opposition coalition, accused the state audit agency of "intimidating" its activists in the regions by summoning them to give "explanations" in connection to a probe related to alleged sham deals in political funding.
"If the authorities are probing into illegal funding of parties, then they [the authorities] have nothing to do with these people [activists]," said Davit Usupashvili, leader of Republican Party from the Ivanishvili-led coalition. He said that after summoning, the coalition activists were asked questions "which have nothing do with party funding" and the purpose of summoning and questioning was "psychological pressure" on activists.
Also on March 12 Tina Khidasheli of Republican Party and Zviad Dzidziguri of Conservative party, both from Ivanishvili-led coalition, donated the Georgian Dream GEL 10,000 and GEL 12,000, respectively.
"I am waiting for the Chamber of Control to summon me for interrogation," Khidasheli said. "Let her [Natia Mogeladze, head of the party funding monitoring service at the Chamber of Control] accept this challenge and summon me… We also demand to make video and audio recordings of interrogation of our activists and to make them public."