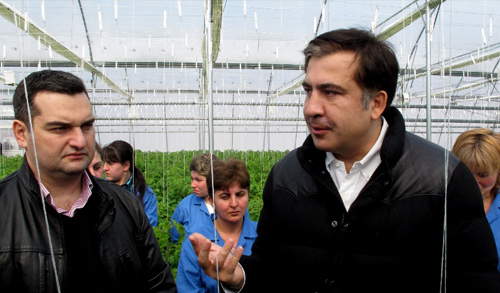 Agriculture Minister Zaza Gorozia (left) and President Saakashvili in a greenhouse farm in Tserovani on March 17. Official photo of the Georgian President's administration.
Talk of civil war, allegations about paramilitary groups and "threatening" locals in western region of Samegrelo with scenarios of a war-battered Syrian city of Homs is "immoral" and "idiocy", President Saakashvili said on March 17.
Though he did not mention anyone by name, Saakashvili was obviously referring to remarks of Irakli Alasania, leader of Our Georgia-Free Democrats, part of Bidzina Ivanishvili-led opposition coalition, whom Saakashvili described as "one of the representatives of a radical political wing".
Speaking at a meeting with foreign diplomats in Tbilisi on March 15, Alasania claimed that the authorities were setting up "paramilitary groups" in western Georgia and accused President Saakashvili of "preparing for the civil war and confrontation".
"I want to emphasize your attention on what's happening in western Georgia; why the paramilitary groups are formed? Who's arming them?" Alasania said. "This precisely leads to believe that Saakashvili is not preparing grounds for fair and free election; he's preparing grounds to have official execution of political opposition, because we are 'the enemies of the state', because we are 'controlled by the Kremlin'."
"This is not an exaggeration," he continued at the meeting with diplomats. "Before it's not too late and before we gonna have another Homs in Zugdidi [a town in western Georgian region of Samegrelo] or some other places, I'm begging you, please, start reacting; we can still change these dramatic events, which we will face if this go[es] on before October", when the parliamentary elections are scheduled, Alasania said.
Alasania reiterated similar remarks accusing Saakashvili of "preparing for civil war" while speaking with journalists next day, on March 16.
Responding to these allegations, President Saakashvili said in televised remarks on March 17, while visiting a greenhouse farm in Tserovani, that the opposition was trying "to drag us into election campaigning."
"They think about chairs [referring to posts in government] and I think about greenhouses, enterprises, new resorts and cities, new jobs, new schools and universities, because that's my ambition and not how the chairs will be reshuffle and among whom, including myself; they are obsessed with chairs; well, it is not a surprise, so I do not react on that; let them carry out whatever campaigning they want in frames of the law," Saakashvili said.
"But now they have threatened Samegrelo with the Syrian scenario, with Homs scenario; I want to translate what it means – it means thousands of casualties, destruction of hundreds and thousands of buildings and leveling of cities to the ground, women with disemboweled bellies, beheaded children, shortly speaking that means the catastrophe", he said.
"I just want to remind everyone that now it is 2012 and not 1992" when Georgia was engulfed in internal armed confrontation. "Even raids of [a notorious paramilitary group in early 1990s] Mkhedrioni did not force the population of Samegrelo to give idea of the Georgian statehood."
"Do not threaten these people, please," he said.
"Threats of any kind in address of these people is just a huge immorality; to put it bluntly, that's idiocy, but it echoes very well the plans of one country and I want to tell everyone: talk whatever you want, but wash your mouth out before mentioning Samegrelo and the Georgian people in general and give up playing with such issues even in your fantasies, but if you have it on your mind, keep it for yourselves and let us build and let people live," Saakashvili said.