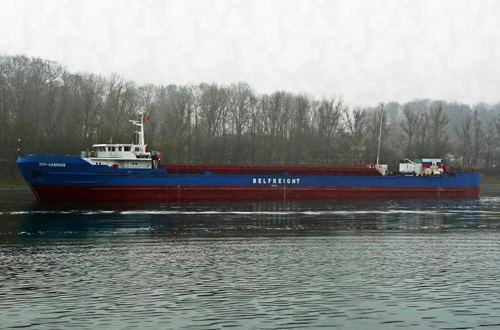 Cargo ship, Pur-Navolok, seen on this file photo from a website of ship's owner company Belfreight.
Georgian coast guard detained on March 19 a Russian cargo ship for "violation of navigation rules," the Georgian Border Police at the Interior Ministry said in a brief statement.
It said that Pur-Navolok vessel with ten crew members, all Russian citizens, was detained off the coast of Sarpi, Georgia's Autonomous Republic of Adjara, close to the Turkish border.
A spokesperson for the Border Police told Civil.ge that "no serious violation" was involved and indicated that the ship would be fined, amount of which would be defined in the process of legal proceedings.
The Border Police later said that it was probing into the case under the article of administrative code, which deals with violation of navigation rules; that article of code envisages GEL 50,000 (about USD 30,300) fine.
Pur-Navolok is owned by Arkhangelsk-based transportation, logistic and ship management company Belfreight.
The Russian Foreign Ministry said the cargo ship was en-route from Kerch in Ukraine to the Turkish city of Hopa, about 20 kilometers from the Georgian border, transporting coal.
Alexander Lukashevich, the Russian Foreign Ministry's spokesman, said that the cargo ship was detained "while it was awaiting a permission to enter into the Turkish port."
He also said that the Russian Interests Section at the Swiss Embassy in Tbilisi was looking into the circumstances of the Russian ship's detention and was taking measures to provide consular assistance to its crew members.