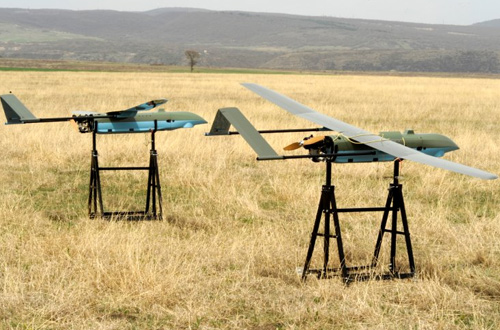 Georgian-produced drones. President's administration photo.
Georgia unveiled a domestically produced, catapult-launched surveillance unmanned aerial vehicle during a test flight on April 10, observed by President Saakashvili.
According to the Georgian Ministry of Defense drone can stay aloft for 8 hours and can fly up to 3,000 meters above the ground and reach a top speed of 160 km/h.
MoD said the drone with its dual camera gimbal, photo and infrared camera, can be used for reconnaissance, surveillance, coast guard and border patrol missions, as well as for civilian purposes.
The UAV has a parachute system for landing and an airbag to prevent damage on impact, according to MoD.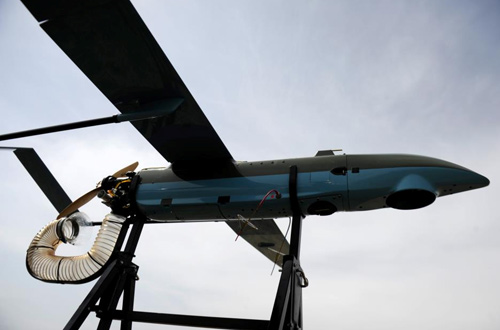 A Georgian-produced drone. President's administration photo.
Georgia made drone acquisitions from Israeli defense electronics company Elbit Systems under the contract signed in 2007. President Saakashvili said in April, 2008 that Georgia had about 40 drones, among them medium size Hermes 450, which has endurance of about 20 hours.
But the deal went wrong; in April, 2011 Elbit Systems said it had filed a lawsuit against the Georgian government in the amount of about USD 100 million. In late December, 2011 Elbit Systems and Georgia settled the dispute and signed a deal according to which Georgia agreed to pay USD 35 million and to return to Elbit "certain equipment and sub-systems" bought from the company.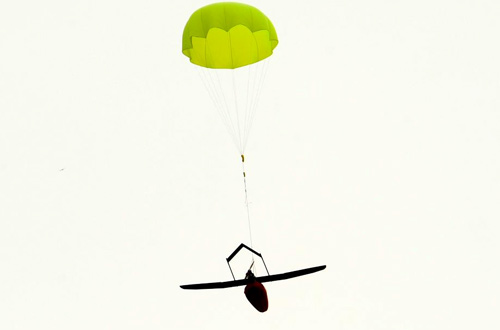 A Georgian-produced drone during landing. President's administration photo.
"When you make procurement from abroad a seller may not give you a full technology or may share technology [bought] by you to your adversary," Saakashvili said at a presentation of the drone. "No one will share this [pointing to the Georgian-made drone] with others; it's ours… We no longer depend on others."
This is the second time when President Saakashvili touches upon the risk of sensitive data being shared. When presenting a Georgian-manufactured multiple rocket launcher in early March, Saakashvili said by having local military production "you do not depend on others, that someone may cheat you or share data with others".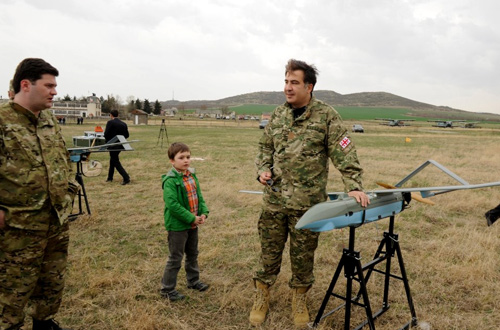 President Saakashvili in a military uniform with his six-year-old son, Nikoloz, at a presentation of a Georgian-produced drone, Georgia's Defense Minister Bacho Akhalaia seen left. President's administration photo.
Although in neither of these instances Saakashvili gave any specific cases, both of these remarks seem to be echoing allegation, which has emerged after WikiLeaks started releasing emails snatched by hackers from a U.S.-based global security analysis company Stratfor.
According to one such email from February 2009, a source allegedly told a Stratfor senior analyst, that surveillance drones, which Georgia bought from Israel were compromised after Israel and Russia "made a swap – Israel gave Russia the 'data link' code for those specific UAVs [unmanned aerial vehicle]; in return, Russia gave Israel the codes for Iran's Tor-M1" missile systems.
Speaking at the presentation of the Georgian-made drone, Saakashvili said that Georgian engineers had been developing it for last 18 months and the drone would be further improved within next year and a half.