'Next year we will have armed drone'
'I'm sure we will make air defense system too'
'We have produced our own anti-tank weapon'
Georgia has 'serious talks' on exporting its armored vehicle and IFV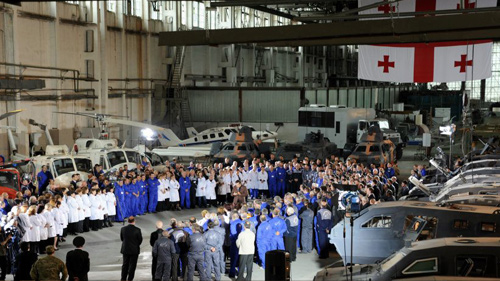 President Saakashvili speaks with workers at the state-owned factory in Tbilisi, which is part of the Defense Ministry's research center Delta in charge of development of country's defense industry, April 11. Photo: President's administration.
A day after testing Georgia's first domestically manufactured surveillance drone, President Saakashvili said on April 11 that development of an improved version, capable to carry munitions, was underway and expected to be completed next year.
Saakashvili was speaking during a televised meeting with the staff of a state-run factory in Tbilisi, which is part of the Defense Ministry's research center Delta in charge of development of country's defense industry.
Defense and other items manufactured by Delta were displayed in the factory on April 11 reviewed by President Saakashvili (photos available here).
In his speech Saakashvili drew parallels with Singapore saying that this island nation built its high-tech manufacturing sector upon developing military industry in 1970s.
"So this factory and these technologies are promising foundation for Georgia's future industrial potential," Saakashvili said.
He said that for several months after the August, 2008 war Georgia "was actually left without sources of arms supply" and it happened not because of fear towards Russia or because "someone was hostile to us."
"They simply thought that Georgia would not have existed at all… But Georgia survived and Georgia is developing," he said.
"So at that time we had problems with importing weapons… but we refused to give up and we started our own manufacturing; a proper management was required; the state took over this and other factories under its control and it turned out that [it is possible] to produce grenade-launchers, automatic [firearms], mortar launchers and also anti-tank weapons – no one was giving us anti-tank weapons, we were begging everyone before 2008 for anti-tank weapons, by the way its market is relatively more open [for Georgia] now, but now we no longer need to buy them [anti-tank arms]; we have produced our own, which costs us twice cheaper than buying it abroad," Saakashvili said.
"I am sure that if we work well we will make air defense system too," he continued. "Yesterday when we tested unmanned [aerial vehicle], some thought it was a toy… Go and buy if you can such a 'toy', which can fly for eight hours, equipped with cameras capable to capture images at night,"
"From next year we will have similar [drone], but capable to carry arms… and it will be much more efficient then old Russian [ground] attack aircraft," Saakashvili said.
TbilAviaMsheni factory, where Saakashvili was speaking and which is now part of MoD's Delta research center, has been producing and repairing Su-25 (Frogfoot) ground attack aircraft.
Saakashvili said, that the Georgian manufactured drone "is better" than the Russian produced one.
"Russia's unmanned [aerial vehicles] are permanently flying over our territory; we have studied well [Russian drones] and we have very detailed intelligence information too, I can't speak about everything now; our [drone] is better," Saakashvili said. "But our goal is not to compete with their [Russian military industry]."

He also said that Georgia already "has serious talks" about exporting it's domestically produced armored patrol vehicle Didgori and tracked infantry fighting vehicle (IFV) Lazika.
In the same speech, Saakashvili also spoke about the new system of "voluntary reserve forces", saying that combined with the domestic defense industry and the armed forces, it would make the key factor required for "contain an aggressor - and we all know that in Georgia's case there is only one aggressor."