Ivanishvili's party to be launched on April 21;
Georgian Dream coalition has opened at least 46 offices across the country;
The coalition plans naming majoritarian MP candidates from May;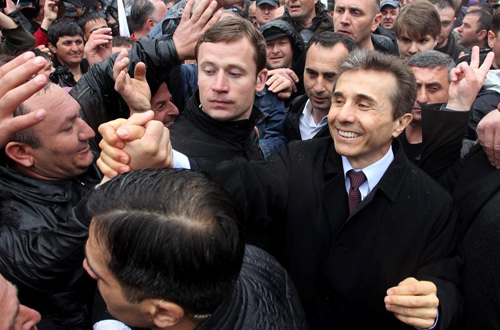 Bidzina Ivanishvili greets supporters in his native Sachkhere, a town in the Imereti region, on April 17. Ivanishvili's press office photo.
Bidzina Ivanishvili, leader of an opposition Georgian Dream coalition, said on April 17, that President Saakashvili was "already retreating, step-by-step" and an active campaigning of his coalition would bring "a breakthrough" in terms of deterring "Saakashvili's violent" policies by late June.
On April 21 Ivanishvili plans to launch his own political party during an event scheduled to take place at an exhibition hall in Didube district of the capital city, according to his press office.
Ivanishvili, who presented core team of his upcoming party in February, still has no right to personally found a political party in Georgia as he is a French citizen and planned constitutional amendment granting him political rights without having a Georgian passport has yet to be passed by the Parliament. How this formal side of founding the party will be addressed by April 21 is not yet clear.
Despite being critical of proposed constitutional amendment, Ivanishvili will make full use of the rights that will become available for him after the approval of amendment, his lawyers said last week. One of his lawyers and a member of Ivanishvili's upcoming party, Archil Kbilashvili, even suggested that from the legal point of view Ivanishvili would benefit more from such an option, because on the one hand he would remain the French citizen and on the other he would be granted political rights in Georgia.
Speaking at an opening of the Georgian Dream's office in his native Sachkhere, a town in western Georgia region of Imereti on April 17, Ivanishvili said that his coalition had already managed to achieve success on foreign front by, as he put it, "showing Saakashvili's real face and his false democracy to Americans and Europeans."
Addressing through loudspeakers locals gathered outside the newly opened Georgian Dream's office in Sachkhere, Ivanishvili said that Saakashvili "is already retreating, step-by-step" and arrival of international election observers would play an important role in deterring government's pressure on opposition activists.
"We will be completing opening offices in the regions in next few days and each of these offices will become active and together with us civil society will also get active and… through combination of all these factors, I promise you, breakthrough will be made by mid-June or late June and you will be able to freely express your opinion... We will also manage to make police serve the people and make the police give up repressing own people," he said.
Since its formation in late February, the coalition opened offices in at least 36 towns across the country, plus ten offices in Tbilisi (not counting its headquarters in the capital) – one in each of the capital city's ten constituencies.
According to Davit Usupashvili, leader of Republican Party, one of the Georgian Dream coalition members, the coalition would start naming majoritarian MP candidates from early May. After that, Usupashvili said, majoritarian MP candidates would launch campaigning in their respective constituencies, including through promoting the Georgian Dream's issue-based program, which, he said, would be prepared by that time.
In the next Parliament 73 seats will go to majoritarian MPs elected in 73 single-mandate constituencies and rest 77 seats will be allocated proportionally under the party-list contest among political parties and election blocs, which will clear 5% threshold. Under this system, wherein a majoritarian MP is elected through winner-takes-all rule (but a candidate should garner at least 30% of votes), the ruling party endorsed its candidates in 71 out of 75 single-mandate constituencies, that existed during the 2008 parliamentary elections. At the time opposition candidates won the race in the Tbilisi's two constituencies (both won by the New Rights Party candidates), as well as in Tsageri (where the ruling party had no candidate) and Kazbegi constituencies. Unlike previous elections in 2008, in the upcoming polls independent candidates will also be eligible to run.
In his lengthy speech in Sachkhere, Ivanishvili also spoke about the need of having proper system of checks and balances, as well as strong local self-governance and vowed to create "genuinely fair" judiciary in "two-three months" after coming into power and also "to set media free" from the government's pressure.
"It won't take much time; we will manage to make it in several months," he said. "I also promise you that in the shortest period of time we will create really good investment climate in the country."
In the speech Ivanishvili also touched upon the foreign policy and said that creating of democratic institutions "will enable us to materialize our fate, our aspiration to the Euro-Atlantic structures."
"In parallel to becoming stronger internally with well-established democratic institutions and revived business, we will continue aspiring towards the Europe and the Euro-Atlantic space. But it requires state based on democratic institutions and normal economy. After developing these processes, we will be able to genuinely balance our foreign policy and security," he said.

Also on April 17 the Georgian Dream, who leader has hired number of lobbying firms in the U.S. and Europe, said it had dispatched two of its senior figures to Brussels and Washington as part of its efforts to, as it put it, show Georgia's western partners "real" state of affairs in the country and problems ahead of the upcoming elections. Tina Khidasheli of the Republican Party said she would be meeting with the U.S. senators, as well as officials from the U.S. administration in Washington and New York this week and Davit Usupashvili, leader of the Republican party said he would be in Brussels and Strasbourg on April 17-20 to meet with members of the European Parliament, representatives from Council of Europe, as well as NATO officials.