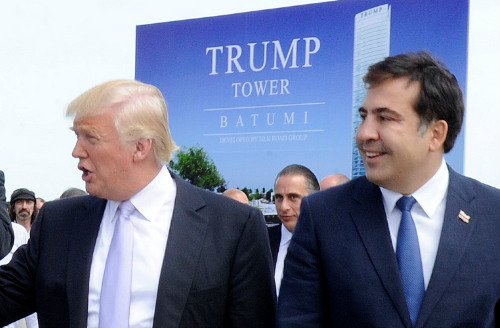 Donald Trump and President Saakashvili in Batumi, April 22. A banner, depicting Trump-branded tower, seen on the background. Photo from Georgian President's website.
President Saakashvili and American property tycoon Donald Trump unveiled on Sunday in Georgia's Black Sea resort Batumi a project of planned 47-storey luxury residential tower to which Trump has lent his name.
Construction of the Trump Tower Batumi will start within a year and is expected to be completed by late 2013 or early 2014. The property is developed by Georgia's one of the largest investment companies Silk Road Group, which uses the "Trump" name and mark under a license deal.
Standing on a background of a large banner, depicting the planned tower with marina, Saakashvili and Trump praised each other with Saakashvili describing the real estate mogul as "the greatest builder and developer in the world" and Trump hailing Saakashvili for "amazing" job.
"New America is actually built by him," Saakashvili said of Trump, whom he awarded with Presidential Order of Excellence during the real estate tycoon's first day of visit to Georgia on April 21.
"If there is anyone, whose arrive can be regarded as a sign of success for the country and if there is anyone who corresponds to my philosophy about persons, who constantly take risks and never fall under the influence of pessimists - that's exactly Donald Trump," Saakashvili said.
"He exactly knows what he wants and nothing will stop him to achieve the goal."
"All these are very acceptable and familiar to me," Saakashvili added.
He also said, that despite attempts by "external forces" to undermine Georgia, the country "is becoming a shining star of this region with its development and prospect for better future."
"The most amazing of all is the job the President has done in Georgia," Trump said.
He said that the Georgian citizens might be "taking it for granted what's happening in Georgia; I will tell you, outside of this area, everybody in the world they speak of Georgia and the great miracle that is taking place and that is led by the President."
"You'er big man outside this area, believe me," Trump told Saakashvili.
On April 21 Trump told the Reuters in Tbilisi, that Georgia "is one of the really amazing places in the world right now" with "lot of investment opportunities."