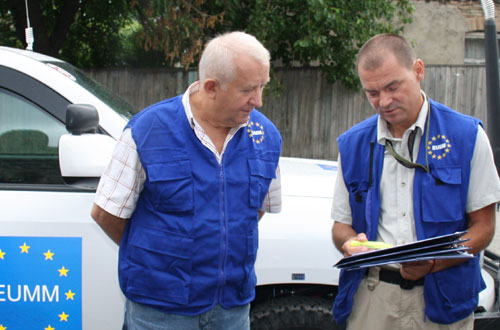 Head of EU Monitoring Mission in Georgia Andrzej Tyszkiewicz (left) is briefed by an EUMM monitor during a patrol from EUMM Field Office Mtskheta on August 4, 2011. Photo: EUMM.
Breakaway Abkhazia's foreign ministry accused head of EU Monitoring Mission in Georgia (EUMM), Andrzej Tyszkiewicz, of "disrespect" towards Sokhumi and declared him as "an undesirable person on the territory of Abkhazia".
In a statement on April 25, the breakaway region's foreign ministry expressed "utmost bewilderment" over, as it put it, "confrontational position taken by Head of the EU Monitoring Mission in Georgia", accusing him of "attempts to politically blackmail the Abkhaz side."

"Mr. Tyszkiewicz is ignoring our requests and appeals and is putting forth unacceptable demands to allow EUMM on the territory of Abkhazia," the statement reads.
EUMM is mandated to cover the whole territory of Georgia, within the country's internationally recognized borders, but the authorities in breakaway Abkhazia and South Ossetia, as well as Russia, which has troops in those regions, deny access to EUMM to these territories under their control.
"EUMM under the leadership of Tyszkiewicz is clearly not disposed to carry out unbiased monitoring and to give an objective assessment to processes posing threat to security," it said. "In particular, Mr. Tyszkiewicz left without due attention process of establishing illegal armed groups on the Georgian territory adjacent to Abkhazia and South Ossetia about which number of Georgian politicians have reported."

The statement makes a reference to allegations voiced by Irakli Alasania, leader of Our Georgia-Free Democrats party, which is part of Bidzina Ivanishvili-led opposition coalition, who said in March that the Georgian authorities were forming paramilitary groups for internal political purposes.
"With his actions, and more often with inaction, Mr. Tyszkiewicz is actually undermining effectiveness of Incident Prevention and Response Mechanism… as well as in overall constructive spirit of the negotiating process," reads the statement, which also accuses the EUMM head of showing "disrespect" towards the Abkhaz side.
Retired lieutenant general of the Polish army, Andrzej Tyszkiewicz, took over duties of head of EUMM last July, replacing German diplomat Hansjörg Haber, who led EUMM from the very establishment of the mission in October, 2008 to monitor ceasefire following the August, 2008 war.
The breakaway region's foreign ministry released the statement in response to the Abkhaz side's refusal to participate in a meeting of Incident Prevention and Response Mechanism (IPRM) in Gali on April 24.
IPRM, a framework established within the Geneva talks, which also involves a hotline to facilitate prompt exchange of information, serves as a venue for regular meetings between the Georgian and Abkhaz officials, as well as representatives of the Russian forces in presence of EUMM and UN representatives.
IPRM meetings in Gali are usually held once in a month to address ongoing security-related issues on the ground. During the most recent meeting in Gali on March 23, participants exchanged information on cases of "killings, a shooting incident and a case of a missing person."
The 36th IPRM meeting was scheduled for April 24, but it was not held and it is not yet clear when it will be held or what the implication of the Abkhaz foreign ministry's statement on further IPRM meetings may have. The breakaway region's foreign ministry said in its statement that Sokhumi deemed "important" keeping this mechanism.