'We are ready to help our Russian friends with police reform';
'We are exporting Georgian police reform';
'Police more popular than political parties in Georgia'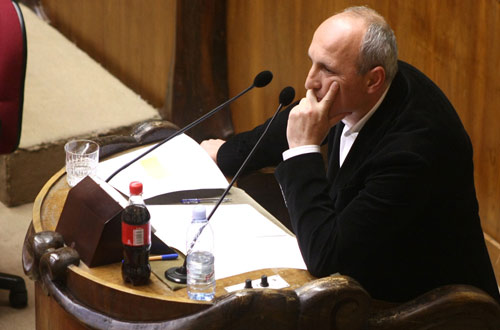 Interior Minister, Vano Merabishvili, listens to remarks from lawmakers following his address to the Parliament as part of 'governmental hour' in the legislative body on April 26. Photo: InterPressNews
Despite continued security threat posed to Georgia from Moscow, investments and tourists from Russia are more than welcomed, Georgia's Interior Minister, Vano Merabishvili, said on April 26.
"Many Russian companies operate in Georgia; there are lots of Russian investments in Georgia," Merabishvili said, adding that 80% of those investments were made by the Russian state-owned companies.
"Money has no smell; any investment in Georgia is welcomed," he told lawmakers.
Georgia's influential Interior Minister was speaking in the Parliament in frames of a procedure known as 'governmental hour' during which cabinet members answer specific questions of lawmakers sent in advance. Merabishvili and some other ministers were summoned upon the request of an opposition parliamentary faction Unity for Justice.
He said that "despite tense relations with Russia and despite of the fact that we expect threat from Russia on the daily basis, the Interior Ministry supported an initiative to lift visa rules for the Russian citizens."
"Our special services have of course reinforced control measures in order to deter possible negative sides of this initiative," Merabishvili said. "But one fact is clear – after this initiative number of tourists coming into Georgia from Russia has doubled."
Merabishvili called on politicians to be cautious while making public statements about circumstances of the August, 2008 war's start and not to make such remarks which might play into hands of "our enemies". He also touched upon allegations voiced by opposition politician Irakli Alasania, who last month accused authorities of setting up paramilitary groups and said Alasania's statements were seized upon Moscow and Sokhumi and used in their attacks on EU Monitoring Mission in Georgia (EUMM).
"You know that allegations by Mr. Alasania were used as a pretext for declaring head of the EU Monitoring Mission as persona non grata on the so called Abkhaz territory. So any public statement, I think, should be measured in order not to damage our common deed we are pursuing," Merabishvili said.
He said that the Georgian police reforms turned into a flagship, "kind of a trademark", of the entire Georgian reforms and "as the crime rate has declined drastically, me and my deputies now have much more free time for advertising Georgia."
He said that as part of these efforts, he had agreed with the relevant Lithuanian authorities to put "a copy" of one of the Georgian glass police buildings in Lithuania, which, he said, would mark "first export of the Georgian reform."
"We can be proud that a Georgian police building will be installed in… Lithuania," Merabishvili said, prompting applause from the ruling party lawmakers.
"We have talks with other countries as well and we plan to export our glass buildings for police stations to at least five other countries," he continued. "We are ready to help our Russian friends too, if they want. You know [Russian] senior officials said for number of times, that Russia needs to build transparent, glass police buildings."
He also spoke against the calls to decentralize the Interior Ministry, which since the Rose Revolution has incorporated other so called "power-wielding agencies" from security and intelligence services to border guard and navy. He said that current "trend in Eastern and Central Europe is merger of power-wielding structures."
"We do not plan – it is neither acceptable nor affordable for us – to separate the Interior Ministry into ineffective units like it was previously," Merabishvili said.
Addressing accusations about politicization of the police, Merabishvili said: "Georgia is a small country and everyone knows everything. The Georgian Ministry of Internal Affairs enjoys with 87% confidence level. All the political parties in Georgia, including the [ruling party] United National Movement, have lower rating than the police."
"If there was even a slight sense [among the public] of police being politicized, [the police] rating would not have been so high," he added.