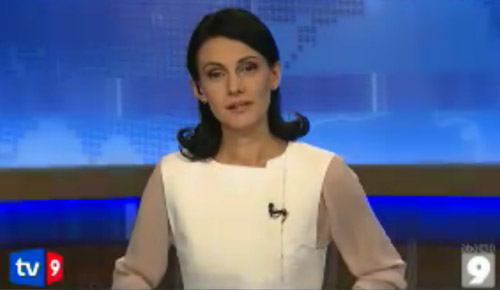 A screen grab from the Channel 9 shows Natia Lazashvili, who for eleven years was a newscaster at Rustavi 2 TV till 2006, and who now anchors Channel 9's main news bulletin at 9pm.
A new Tbilisi-based TV channel, co-owned by leader of opposition coalition Georgian Dream Bidzina Ivanishvili's wife, launched broadcast late on Monday evening with its main news bulletin.
Currently the channel is broadcasting in "trial mode", its executive director Kakha Bekauri says, with three news bulletins during a day, a late-night political talk show and a satirical political puppet show.
The rest of the airtime will be filled with documentaries and films during the test period, which is expected to last before the end of June; after that it is planned to turn the station fully into a news channel, said Bekauri, who was a director of another Tbilisi-based Maestro TV till January 2011.
The new TV station has been named as Channel 9; Ivanishvili has once already run a channel in Georgia with the same name, which he unexpectedly closed down in 2004.
The Channel 9 has a license to broadcast via satellite and cable, but its reach to viewers will be limited, at least for now.
Currently the channel is available for subscribers of Global TV cable network, as well as to everyone with a dish antenna via satellite through the Turkish satellite operator Turksat. The channel's live stream is also available online.
No other cable network, except of Global TV, is running the channel right now.
"We will try to reach out to each and every cable network in order to put [the Channel 9] in to their package. But most of them are afraid and others are under the government control and of course they are refusing to carry our channel," Bekauri told a weekly e-publication Liberali.
Brother of Bidzina Ivanishvili, Alexander, owns 66.8% of shares in Global TV cable operator.
The company has recently faced a major problem after the two most watched and largest nationwide broadcasters, Rustavi 2 and Imedi TV, asked Global TV to stop carrying these channels, citing commercial reasons.
Global TV executives, however, say that the government-friendly nationwide broadcasters decided to withdraw in an attempt to encourage subscribers to switch to other cable operators and to discourage potential clients from subscribing with Global TV.
Global TV's marketing director, Zurab Bazgadze, told Civil.ge last week without specifying figures, that withdrawal of two largest channels caused "only insignificant" decrease in number of subscribers.
"Despite artificially created problems the Channel 9 launches trial broadcasting," an anchor of the new channels main 9pm news bulletin announced.
A reference was made to Channel 9's allegations, that there had been seven cases when the television station's imported new equipment was deliberately damaged during the customs clearance.
Channel 9's executive director, Kakha Bekauri, says that the station would make much focus on covering developments in the provinces and will have about 40 "bureaus" across the country.