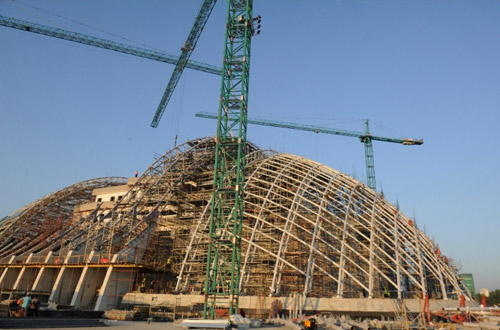 Construction of new parliament building seen on this photo dated with April 30, 2012.
Construction of new Parliament building in Kutaisi will only be partially completed by Georgia's Independence Day, but its chamber will be ready to host first parliamentary session on May 26 as scheduled, Mikheil Machavariani, deputy speaker of the Parliament, said on Tuesday.
"The [construction] of the building itself will not be over by May 26, but the chamber [for the parliamentary sittings] will be completed," Machavariani said, adding that the new chamber "is very comfortable."
MP Machavariani, who is the ruling party's secretary general, made the remarks after MP Dimitri Lortkipanidze of the opposition parliamentary faction Unity for Justice told lawmakers not to take part in the planned session in the unfinished building of the new Parliament for safety reasons. He then recalled death of a woman and her child because of "a hasty" decision to remove the World War II memorial in Kutaisi to give way for construction of new parliament building in December, 2009.
President Saakashvili said last week, that he had "no idea how the construction will be completed" by May 26 and added: "But I know for sure that there is no way for them [workers] not to complete" the construction in deadline.
"Ramaz Nikolaishvili [minister for regional development and infrastructure] may suffer a heart attack if the Parliament [building] is not finished… or many people may be held personally responsible for that," Saakashvili said jokingly on May 5 when meeting with a group of students in Batumi.
Lawmakers from the Christian-Democratic Movement (CDM), a leading party in small parliamentary minority group, said they would not take part in a symbolic parliamentary session in Kutaisi on May 26.
"This gathering will have PR purposes and we do not see any reason to be part of that," MP Nika Laliashvili of CDM said.