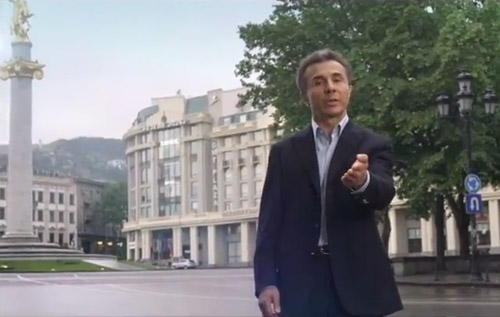 Screengrab from Ivanishvili's
video message
, released on May 8.
Bidzina Ivanishvili, leader of opposition coalition Georgian Dream, has called on supporters through a video message to rally on Freedom Square on May 27, which will mark a formal launch of the billionaire's campaign for the October parliamentary elections.

"I, Bidzina Ivanishvili, leader of coalition Georgian Dream, will be waiting for you here, on the Freedom Square at 3pm on May 27 in order to start the process of reunification of our country together and to make Georgian dream come true," says Ivanishvili in the 20-second video message, standing on background footage of Freedom Square.
Georgian Dream coalition announced on April 27 that it would mark the launch of its election campaign with "a large-scale rally" in late May. The Georgian Dream initially wanted to hold the rally on May 26, but other outdoor events are planned for that date in the capital's center to mark Georgia's Independence Day and the Tbilisi municipality offered the Georgian Dream to hold its event on May 27.