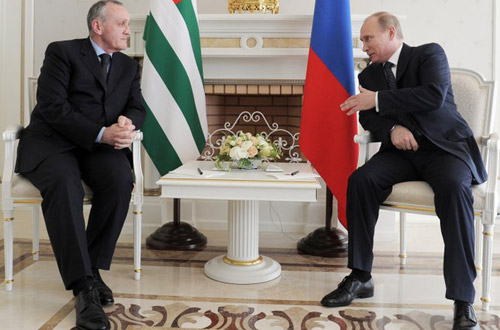 Russia's President Vladimir Putin meets leader of breakaway region of Abkhazia, Alexander Ankvab, in Sochi on May 11. Kremlin photo.
Four days after being sworn in as Russia's President, Vladimir Putin met in Sochi with leader of breakaway Abkhazia Alexander Ankvab on May 11.
"Much has been done in recent years for building independent Abkhaz state, but even more has yet to be made. I know there are many problems," Putin told Ankvab before the meeting, adding that new border crossing point between Russia and Abkhazia would ease movement of people across the border.
Before the bilateral meeting Putin and Ankvab met on the border on the Psou river and toured the newly reconstructed border crossing point there.
"Of course it's not enough. I know that there are many issues and problems in Abkhazia and Russia is ready to support. It concerns first of all social sphere. I am not mentioning here security-related issues – we will talk about it later. But issues of social sphere, healthcare and education, as well as economic development issues – these are all part of the agenda and we will have an opportunity today to discuss all of these issues in details," Putin said.
Ankvab thanked Putin for Russia's support, which, he said, helped Abkhazia "to significantly move forward". He, however, also said that despite of progress, many problems, which had originated from the armed conflict in early 90s, still remained unresolved.
"We have no doubt that things will develop much better," Ankvab added.
The meeting came a day after Russia said that its Federal Security Service (FSB) found a huge arms cache in Abkhazia, intended for targeting Sochi Winter Olympic Games facilities and claiming that weapons were brought into Abkhazia by Chechen warlord Doku Umarov, who, it claimed, maintained "close links" with the Georgian security services.
Neither Ankvab nor Putin addressed this issue in their opening remarks for the press before the talks.
On May 12 Putin will meet also in Sochi with Leonid Tibilov, the leader of Georgia's another breakaway region of South Ossetia.