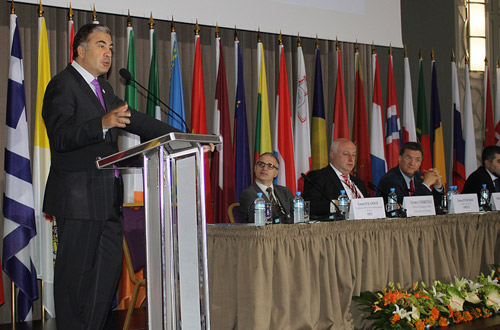 President Saakashvili addresses OSCE Parliamentary Assembly conference on economy in Georgia's Black Sea resort of Batumi, May 12. Photo: OSCE Parliamentary Assembly via
Flickr
.
Georgia's parliamentary elections this October has "a huge security dimension", because Russia has deliberately timed its planned military drills in North Caucasus with polls in Georgia, President Saakashvili said on May 12.
"We have elections now, in October. It's very important, on the one hand, for Georgian credentials, but it also has a huge security dimension," he told OSCE Parliamentary Assembly conference in Georgia's Black Sea resort of Batumi.
"It has security dimensions to it because in parallel to our elections our northern neighbor has called for big trainings of their troops exactly in parallel time of elections. They moved it one month later, or two months later; they would usually do it in summer," Saakashvili said.
"And now they have supplemented it with ОДКБ [a Russian abbreviation for Collective Security Treaty Organisation (CSTO), uniting Armenia, Belarus, Kazakhstan, Kyrgyzstan, Russia and Tajikistan] mass training at the same time, exactly at the time of our elections. That's why we need genuine [election observer] organizations; that's why we need genuine pro-democracy parliamentarians, genuine observers, genuine transparency, starting from today, not just on the day of elections," he said.
Saakashvili was apparently referring to CSTO's military drills Interaction 2012 planned in Armenia on September 3-8, 2012.
In his address to the OSCE Parliamentary Assembly conference in Batumi, Saakashvili also said Russia "does not recognize our borders, wants our government out, they want to depose us."
More than 100 parliamentarians and nearly 250 participants started their three-day meetings on May 12 in Batumi conference – Fostering Economic Co-operation and Stability in the OSCE Region. At the opening of the conference, OSCE Parliamentary Assembly President Petros Efthymiou called for a new Marshall Plan for growth, recovery and social cohesion in Europe.