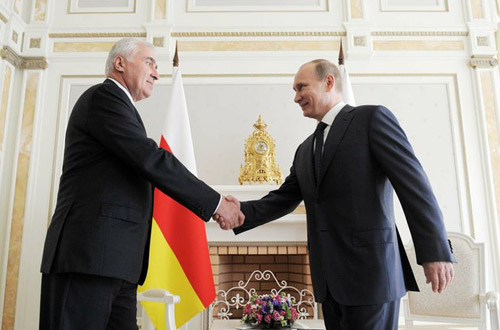 Russia's President Vladimir Putin meets leader of breakaway South Ossetia Leonid Tibilov in Sochi, May 12. Kremlin photo.
A day after meeting with leader of breakaway Abkhazia, Russia's President Vladimir Putin met with Leonid Tibilov, a new leader of Georgia's another breakaway region of South Ossetia in Sochi on May 12.
"We all know what has preceded to your election," Putin told Tibilov. "I very much hope, that situation will be improving."
Tibilov, who was head of the breakaway region's security service, KGB, in 1990s, became South Ossetian leader as a result of two rounds of repeat elections in March and April. Repeat elections were held after results of polls in November, in which opposition candidate Alla Jioyeva won, were annulled, followed by street protest rallies.
"There are too many economic and social problems in the republic," Putin told Tibilov in remarks for the press. "Russia has been beside the Ossetian people in the most difficult times in the recent history of South Ossetia. We will be standing beside in the peacetime too, when there is a need for rapid economic and social recovery."
Tibilov thanked Putin for his personal, as well as Russia's support to Tskhinvali and mentioned that in Russia's presidential elections 90% of South Ossetian voters cast their ballot for Putin. Many residents of Georgia's breakaway regions hold Russian passports and Moscow made them eligible to vote in Russia's elections.
"Thank you for what you are doing, for what the great Russia is doing for South Ossetia," Tibilov told Putin. "We will stick to the principle, which has been historically chosen by our people: forever with Russia."
Putin met with leaders of Georgia's breakaway regions less than a week after he was sworn in as the Russian President on May 7.
A decree on "measures of carrying out foreign policy course of the Russian Federation", signed by Putin on May 7, orders the Foreign Ministry and other state agencies "to actively facilitate establishment of Republic of Abkhazia and Republic of South Ossetia as modern democratic states, strengthening of their international positions, providing reliable security and social-economic rehabilitation of these republics."