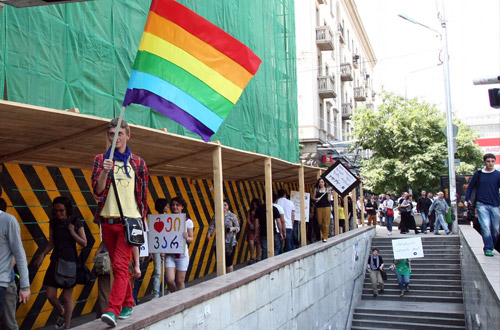 A participant of a march, marking the International Day Against Homophobia, holds rainbow flag on May 17. Photo: InterPressNews
The first-ever march of a small group of rainbow flag-waving gay activists in downtown Tbilisi ended in a scuffle with an Orthodox group, which blocked activists' way not allowing them to continue procession on May 17.
Few dozen of gay activists, some holding rainbow flags, others banners reading: "I Love My Gay Friend" and "Homosexuality Is Not Choice, But Homophobia Is", gathered outside the Tbilisi State Concert Hall (Philharmonic Hall) to mark the International Day Against Homophobia. They started marching towards the Rustaveli Avenue, but before reaching the avenue the participants of the march were stopped by a group of men, some of them Orthodox priests, associated with an organization known as Union of Orthodox Christian Parents.
"We should not let gays continue their way, because we should explain them that this is a sin," one young man, among the group blocking gay activists' way, was saying.
"This is propaganda of wrong way of life," one Orthodox priest was telling participants of the march.
Orthodox priests also approached nearby police officers asking them "to stop this indecency"; officer responded that the police was there to secure order and to prevent blocking of traffic by the participants of the march. "We can't ban them from [marching]," the police officer told the priest. "Then we have to do that," the priest responded.
At one point a scuffle erupted between the gay activists and several young men. Police intervened and took from the scene several people, including some gay activists, who were soon released. Two young men from the Orthodox group remained in the police custody at the time of writing this report.
Earlier on May 17, before this incident, the Georgian Public Defender, Giorgi Tugushi, released a statement in connection to the International Day Against Homophobia.
"In spite of the progress achieved in terms of human rights, homophobia remains as one of the most important problems around the world, and, unfortunately, Georgia is no exception," the statement reads. "Expressions of a negative attitude of the society towards lesbian, gay, bisexual, transgender, and intersex people are frequent. Homophobic expressions or other kinds of actions often insult the concrete group of persons and contribute to the formation of stereotypes in the society."
"Each of us should always keep in mind that it is necessary to respect and accept forms of self-expression and expressions of a person's individuality," the Public Defender said. "I consider that contributing to a culture of tolerance, including taking an interest in the rights and problems of lesbian, gay, bisexual, transgender, and intersex people, should become a very important task for politicians and representatives of the civil sector and the media. It is only in this case that it will become possible for our state and society to develop in a democratic and liberal direction."
U.S. ambassador to Georgia, John Bass, said that people of every sexual orientation should be able to express themselves in public in a peaceful way "without suffering fear of retribution from other people in society, even if they disagree with them."
"One of the features of a healthy, vibrant democracy is the opportunity for people who have differing views on a wide range of issues to be able to express themselves and engage in a debate but to be able to do so without fear of retribution without fear of violence, simply by virtue of what they believe or who they are. And we think that is a fundamental tenet and a foundation of democratic societies," Bass said.
To mark the International Day Against Homophobia, Ambassador Bass moderated a roundtable discussion with local LGBT activists, advocacy groups, representatives of Georgian government and international community on May 17.
Homosexuality was decriminalized in Georgia in 2000. In March, 2012 Parliament approved an amendment to the criminal code making sexual orientation, racial, religious and other bias motives of an offender an aggravating circumstance to be taken into account by the courts.
Round up of early reactions on social media, including some videos, available on Storify.