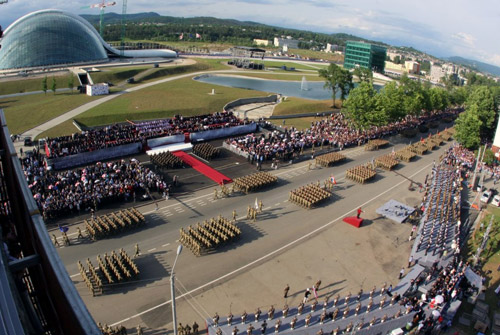 Military parade outside the new glass-dome Parliament building in Kutaisi on May 26. Photo from President's official Facebook page.
Georgian soldiers and military hardware marched on Friday evening in Kutaisi to mark the Independence Day, reviewed by President Saakashvili shortly after he addressed the Parliament in its new chamber in Georgia's second largest city.
It was the first time when the Independence Day military parade was not held in the capital city Tbilisi.
Before troops and military equipment paraded outside the glass-dome building of the Parliament, dancers from the Georgian National Ballet, dressed in military uniforms, performed a Georgian war dance, followed by couple of performances from Georgian signers with one song about Abkhazia.
Georgian manufactured tracked infantry fighting vehicles Lazika; multiple rocket launchers; three types of modifications of Didgori wheeled armored vehicles; 120mm mortar launchers and surveillance drones were put on display during the parade.
Other military equipment featured in the parade included: 2A65 "Msta" towed 152mm howitzers; 2A36 Giatsint towed 152mm guns; U.S.-donated M1151 Humvee vehicles; Turkish-made wheeled light armored vehicles Cobra; Israeli-made armored vehicles Wolf; Turkish-made EJDER armored personnel carriers; self-propelled air defense mobile systems (ADMS) with truck-mounted surface-to-air missiles, produced by the Israeli Rafael Advanced Defense Systems; 9K33 OSA (Wasp) short-range tactical surface-to-air missile system; 152mm self-propelled artillery gun DANA; RM-70 multiple rocket launchers; GRADLAR multiple rocket launchers; 2S1 Gvozdika (Carnation) 122-mm self-propelled howitzers and T-72 battle tanks.
The parade was concluded by overflights of UH-1H Iroquois; Mi-8M and Mi-8MT helicopters, as well as Mi-24 helicopter gunships; L-39 training and multi-purpose light attack aircraft and Su-25 (Frogfoot) ground attack aircraft.