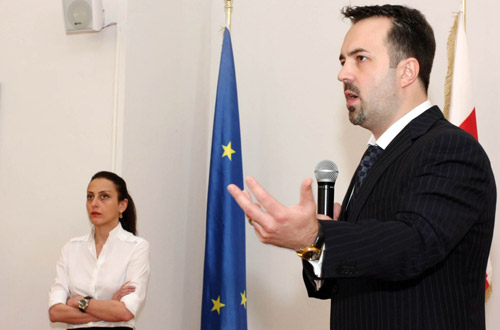 Education Minister Dimitri Shashkin (right) speaks while presenting new head of the National Examinations Center Khatia Dekanoidze (left). Photo: InterPressNews
Rector of Academy of the Ministry of Internal Affairs (MIA), Khatia Dekanoidze, has been picked up to fill the post of director of the National Examinations Center (NEC) at the Ministry of Education, which was left vacant after a controversial dismissal of Maia Miminoshvili.
Education Minister, Dimitri Shashkin, described Dekanoidze as "the best possible nomination for this post right now."
"She will move the education reform to a new level," Shashkin said. "Her task is to secure holding of the upcoming national exams for [university] admissions in the best possible way and to continue reforms."
"Despite structural differences between [the police academy and NEC], both of these structures have been working on very important reform directions. Like in previous years, this year too admission examinations will be carried out in the best way… I will be a guarantor that there will be no flaws in the process of [university admission] examinations," new head of NEC, Khatia Dekanoidze, said.
Dekanoidze became rector of the MIA Academy, which provides training courses and in-service trainings for the personnel of the Interior Ministry, in 2008; before that she worked for the Georgian embassy in Washington and worked at the National Security Council (NSC) at the time when NSC was led by now Interior Minister Vano Merabishvili in 2004.
Head of the Interior Ministry's archives, Davit Aprasidze, will replace Dekanoidze as rector of the MIA Academy.