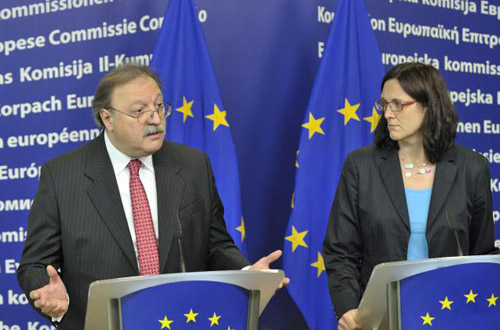 Georgian Foreign Minister Grigol Vashadze and EU Commissioner for Home Affairs Cecilia Malmström at a news conference after meeting in Brussels on June 4. Photo: European Commission
(Updated text adds comments by EU Commissioner for Home Affairs Cecilia Malmström on rate of visa rejections to Georgian citizens in ninth, tenth and eleventh paragraphs)
Georgia and the European Union launched visa liberalisation dialogue with an aim to examine all the relevant conditions for visa-free travel to the EU for Georgian citizen, the European Commission said on June 4.
The announcement was made after a meeting between Georgian Foreign Minister Grigol Vashadze and EU Commissioner for Home Affairs Cecilia Malmström in Brussels on June 4.
"The visa liberalisation dialogue addresses areas directly related to document security, border management, migration, mobility and asylum, as well as other issues such as the fight against corruption and organised crime, protection of human rights, minorities, and anti-discrimination, which are highly relevant to ensure that mobility takes place in a secure and well-managed environment," the European Commission said in a press release.
The main instrument to conduct talks will be the Visa Liberalisation Action Plan (VLAP) - a set of detailed requirements that a country should meet in order to be granted short-term visa-free regime.
Georgia will present its action plan later this year, according to the European Commission.
"Today we demonstrate once more our longstanding commitment to strengthen the ties between our countries and people," EU Commissioner for Home Affairs Cecilia Malmström said. "The start of this visa liberalisation dialogue indeed marks an important political milestone in the EU-Georgian relations. It recognises the efforts made by Georgia in the different areas relevant for a future visa-free travel to the EU and constitutes a further incentive for Georgia to pursue those reforms."
No visa is required for EU citizens to enter into Georgia. Georgia has visa facilitation and readmission agreements with the EU.
Among three South Caucasus states, Georgia has the largest rate of visa refusals in the EU states' consulates, according to a research released in April. Refusal rate ranged between 10,8% in 2007 and 15.3% last year, peaking to 17.2% in 2009.
Asked about high rate of visa rejections for Georgian citizens, Commissioner Malmström said at a news conference: "We have seen lately a change in that trend."
"I am quite convinced that the trend will continue to decrease and launching of [visa liberalisation dialogue] today is an important element that will make sure that figures [of rejections] will further decrease," Commissioner Malmström said, adding that launching of talks was "a very strong signal" showing EU's commitment to further deepen ties with Georgia.
"So I hope this [high rate of visa rejections] will change and we will also see it statistically very soon," she said.
Georgia will be the third country among six Eastern Partnership states after Moldova and Ukraine to have visa liberalisation action plan with the EU.