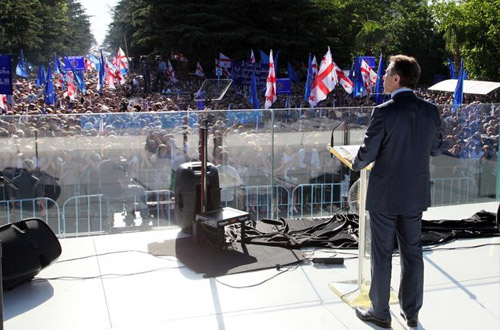 Bidzina Ivanishvili, leader of Georgian Dream opposition coalition, addresses supporters at a campaign rally in Kutaisi, June 10. Ivanishvili's press office photo.
Bidzina Ivanishvili, leader of Georgian Dream opposition coalition, told thousands of supporters at an outdoor campaign rally in Kutaisi on June 10, that "no one will be able to stop us" and vowed to make his coalition's victory in the October parliamentary elections "inevitable".
The rally in Kutaisi, which is Georgia's second largest city with population of about 196,000, came two weeks after Georgian Dream's huge rally in the capital Tbilisi, which marked the formal launch of Ivanishvili's and his opposition coalition's election campaign.
Ivanishvili, who stood behind bullet-proof glass as he addressed the rally, spoke in his half an hour speech about importance of Kutaisi and the entire Imereti region, vowing to turn the city into "the major educational center" by establishing a new university there, "which will have the same importance as Gelati Academy had for Georgia". Educational center in Gelati monastery, outside Kutaisi, was founded by King David the Builder in early 12th century.
Motorcades from nearby towns brought Georgian Dream activists and supporters to join the rally in Kutaisi, which is the main city of Imereti – the region with the largest population among the Georgian provinces of about 707,000 people.
Kutaisi, which President Saakashvili has declared as the country's second capital, will host the new parliament building, which is currently being built there. Ivanishvili raised the controversial decision by the authorities to relocate Parliament from the capital city in the context of a recent incident at the construction site of the new parliament building in Kutaisi in which one worker died.
"One more person fell victim to the whims of Saakashvili," Ivanishvili said and also recalled death of a woman and her child in late 2009 during a demolition of the World War II memorial to make way for the launch of construction of the new Parliament building in Kutaisi.
During his speech crowed was often chanting "Bidzina, Bidznia", but at one point Ivanishvili told the rally not to chant "Bidzina". He said for number of times previously that he was strongly against of creating cult of personality and "new messiah."
Ivanishvili said that healthcare, education and agriculture would be the priorities of state budget if his coalition comes into power. He reiterated a promise to launch GEL 1 billion investment fund to finance startups in the agriculture sector.
He also vowed to "reduce unjustifiably high utility tariffs" and to increase monthly pensions.
Ivanishvili said that it was impossible to solve all the problems at once, "but there are issues, which require only political will." In such issues he listed independence of judiciary and also vowed "to set police free from political orders."
"It does not require lots of efforts; it requires political will and we will do that," Ivanishvili said, adding that after coming into power his coalition would never allow return of those times when criminal bosses, "thieves in law", ruled the country. "But we will also not allow 'thieves in law' to be replaced by the authorities themselves acting like 'thieves in law'."
Like the campaign rally in Tbilisi on May 27, the one in Kutaisi also lasted less than an hour, but it was not concluded with a performance by Ivanishvili's teenage son, Bera, who is a pop singer – the reason, Georgian Dream said, was a tragedy on the construction site of new Parliament building in which one worker died.
After his speech, Ivanishvili also announced Georgian Dream's majoritarian MP candidates for six out of twelve single-mandate constituencies located in the Imereti region.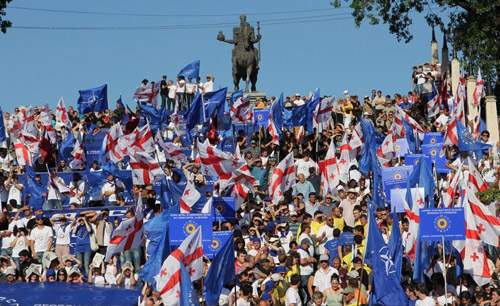 Georgian Dream supporters standing on 100-step stair leading up to the monument of King David the Builder in Kutaisi, June 10. Georgian Dream's press office photo
He also said that next stop would be Ozurgeti, the main town of Guria region, where the Georgian Dream plans to hold campaign rally on June 17.
Before Ivanishvili's speech, Gubaz Sanikidze, one of the leaders of National Forum, party within the Georgian Dream coalition, told the rally that "our brothers Abkhazians and Ossetians are waiting" for the results of the October parliamentary elections.
"They are waiting to see whether or not we will be able to send 'party of war' – [the ruling] National Movement [from power] and whether or not 'party of peace' – the Georgian Dream comes [into power]. Believe me they are waiting for us," said Sanikidze, who will be running Georgian Dream's majoritarian MP candidate in Kutaisi single-mandate constituency.
He also said that results of the October parliamentary elections would define Georgia's future for next ten-fifteen years. "Anti-Georgian National Movement should be put to an end," Gubaz Sanikidze said.