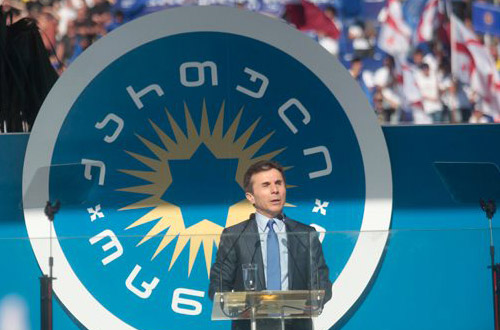 Bidzina Ivanishvili addressing supporters at Georgian Dream's campaign rally in Kutaisi on June 10. Ivanishvili's press office photo.
Tbilisi City Court in its two separate rulings on June 11 imposed total of GEL 148.68 million (about USD 90.9 million) fine on leader of Georgian Dream opposition coalition Bidzina Ivanishvili.
The amount of fine constitutes to 2.1% of Georgia's total budget revenues set for this year and about 1.4% of Ivanishvili's personal wealth, estimated to be USD 6.4 billion.
The multi-million fine was imposed after the court approved two decisions by the State Audit Service, which has accused Ivanishvili of violating party funding rules.
Ivanishvili's lawyers condemned the ruling as a concerted effort by the court and the state audit agency and part of the authorities' efforts to target Ivanishvili. They said they would appeal both rulings, but also added that they had no hopes of any success.
The ruling can be appealed to the higher court within 48 hours and the Court of Appeals should give its verdict in another 48 hours.
The fine has to be paid within seven days after the ruling by the court of first instance.
Allegations of the state audit agency, which is also in charge of monitoring political finances, involve two episodes.
In one case, the state audit agency claimed, that Ivanishvili through his two companies Burji and Elita Burji provided transportation services with 239 vehicles, including minibuses, under "preferential" terms to his Georgian Dream opposition coalition. The state audit agency estimated this service was worth GEL 2,242,994, which it said actually amounted to illegal donation to the Georgian Dream by Ivanishvili. The state audit agency was requesting the court to fine Ivanishvili with five times of this amount. This sum, however, was further doubled to GEL 22.42 million because this type of violation of the law, according to the court's decision, was committed for multiple times by Ivanishvili.
In another case, the state audit agency claimed, that distribution of satellite dish antennas free of charge by Global Contact Consulting (Global TV) with use of Ivanishvili's funding also constituted violation of party funding rules. The agency said that the move actually was giving gifts to voters with total worth of GEL 12,622,019.
Global Contact Consulting, which is more known under its brand name Global TV, is a cable network also providing clients installation of satellite dish antennas throughout the country.
According to the company since early March it has installed satellite dishes in up to 25,000 households across the country
Global TV is the only cable operator which carries Channel 9, a television station owned by Ivanishvili's wife, which is also available on satellite.
66.8% of Global TV shares are owned by Bidzina Ivanishvili's brother Alexander; 16% of shares are distributed among three other Georgian citizens and 17.2% is owned by a U.S. citizen, according to registration papers available at Public Registry.
Global TV's marketing director, Zurab Bazlidze, told Civil.ge on June 8, that the company started sale promotional campaign in early March involving installation of satellite dishes free of charge in the provinces, where access to television stations other than nationwide broadcasters is limited. Clients, under the campaign, will not have to pay monthly subscription fees for a year period and will start paying GEL 4 monthly fee after one year since the installation of the satellite dish.
Giorgi Amiranashvili, who represented the state audit agency at the court hearing, told the court on June 8, that Global TV was able to launch this campaign only after Alexander Ivanishvili received a loan from his brother Bidzina Ivanishvili. He also told the court that the state audit agency interviewed over 40 new clients of Global TV and most of them either testified that satellite antennas were installed as "a gift from Ivanishvili" or said that the dish antennas were installed "on behalf of the Georgian Dream." The state audit agency also said that the scheme under which Global TV was installing satellite antennas was not driven by commercial benefit and was politically-motivated move.
In case of Global TV, Ivanishvili was fined with GEL 126.22 million.
In an interview with Tbilisi-based Maestro TV last week, Ivanishvili said that one of the aims of targeting him by the state audit agency was "to stop distribution of [satellite dish] antennas in the regions."
"These antennas will make it possible for television stations, reporting objectively, to bring information into the provinces and that would downscale [affect] of lies by Saakashvili's television stations and that will be disastrous for [the authorities]," Ivanishvili said.
Before this multi-million fine, total financial penalties imposed on Ivanishvili or entities and individuals affiliated with the billionaire for alleged violation of party funding regulations stood at GEL 11.38 million (up to USD 7 million).