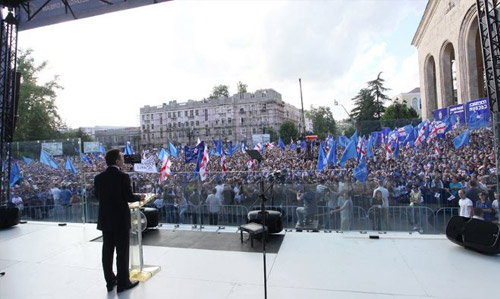 Georgian Dream leader, Bidzina Ivanishvili, addresses campaign rally in Ozurgeti, June 17. Ivanishvili's press office photo.
Georgian Dream, an opposition coalition led by Bidzina Ivanishvili, held a large outdoor campaign rally in Ozurgeti, the main town of western Georgian region of Guria, on Sunday.
It was Georgian Dream's third outdoor campaign rally after Tbilisi on May 27 and Kutaisi a week ago. This week Ivanishvili also campaigned in parts of Samegrelo and Adjara regions meeting locals in some villages there.
In his speech during the rally in Ozurgeti, Ivanishvili reiterated those key election promises, which he has so far revealed, involving cutting utility tariffs; one billion investment fund for agriculture; state-funded basic health insurance for every citizen; increasing monthly pensions to the amount of minimum subsistence level, adding that subsistence level itself would be revised to set it on "real" figure. Minimum monthly subsistence level for an average household in May was GEL 251.8 and GEL 150.1 for a working-age male, according to state statistics office.
In the speech Ivanishvili also touched upon some of the recent developments, including multi-million fine imposed on him after being accused of violating party funding rules. He said this fine was part of "Saakashvili's miserable tricks."
"I know that there are concerns about it in the society, but don't be afraid, it won't stop me," said Ivanishvili, who said few days ago that he would not pay the multi-million fine.
Ivanishvili also named Georgian Dream's majoritarian candidates in all three single-mandate constituencies of the Guria region.
A former footballer Temur Chkhaidze will run in Lanchkhuti; Zviad Kvachantiradze, who previously was in the diplomatic service – in Ozurgeti and Temur Chkuaseli of folk song choir Georgian Voices, whom Ivanishvili described as his "long-time friend" will run in Chokhatauri.

He also mentioned the authorities plan to build a new city, Lazika, on the Black Sea coast, saying that it was "Saakashvili's whim."
"No one knows for whom he intends to build this city and with what funds and how a city built on a swamp can be reliable for anyone," Ivanishvili said. "If it is possible to find funds for construction of a new city, why it is not possible to make these funds available for Ureki [a small resort on Guria region's Black Sea coast]?"
Few days ago President Saakashvili was in Ureki where he visited construction of a new seaside promenade and vowed to rehabilitate water supply system there. Ivanishvili told the rally in Ozurgeti, that Saakashvili's "promises are lies and you know it very well."
Several hours before Ivanishvili's campaign rally in Ozurgeti, President Saakashvili was in Poti earlier on June 17, where he met with locals in one of the neighborhoods of the port town.
During the meeting Saakashvili said that construction of new city, Lazika, which is planned to be built not too far from Poti, would "strengthen" Poti itself. "Residents of Poti and of the entire Samegrelo region would benefit from construction of the new city," Saakashvili said.
During the same meeting Saakashvili acknowledged, that free industrial zone in Poti – which four years ago he said "will result in a new economic miracle" – did not meet its expectations, adding that setting up of enterprises within the zone "is almost not happening." He, however, also said that Poti would turn into "industrial center" and told the locals that planned construction of a large factory for urea production by Azerbaijani state company SOCAR would employ thousands of people.
Georgian Dream's campaign rally in Ozurgeti was closed by several songs performed by Ivanishvili's teenage son, Bera, who is a pop singer. The Georgian Dream said its next outdoor campaign rally would be held in Mtskheta-Mtianeti region on July 1.