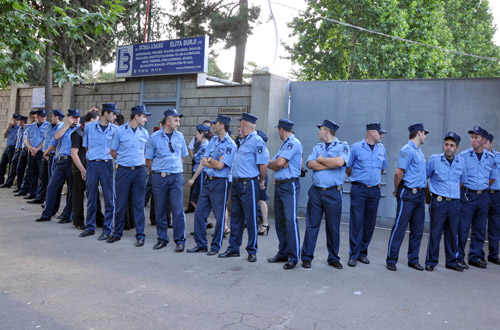 Police cordon-off entrance to Elita Burji in Tbilisi, a company affiliated to Bidzina Ivanishvili, which was one of those several locations where Global TV's satellite dishes and receivers were stored, June 21. Photo: InterPressNews
The case over which Georgian Dream opposition coalition leader Bidzina Ivanishvili faces multi-million fine and involves cable operator and satellite TV provider Global TV took a new twist on June 21 as chief prosecutor's office announced about the launch of a criminal investigation into possible voter bribery.
As part of the ongoing investigation, the prosecutor's office said, it had requested the court to impound satellite dish antennas owned by Global Contact Consulting, best known with its brand name Global TV, co-owned by Bidzina Ivanishvili's brother Alexander.
The state audit agency ruled earlier this month that distribution of satellite dish antennas "free of charge" by Global TV with use of a loan from Ivanishvili constituted violation of party funding rules. The agency said that the move actually was giving gifts to voters with total worth of GEL 12,622,019. The state audit agency's decision was upheld by Tbilisi City Court, as well as by Appeals Court and Ivanishvili was eventually fined with GEL 63.1 million. In a separate case, not related to Global TV, Ivanishvili was also fined with GEL 11.21 million making total financial penalty GEL 74.32 million (about USD 45.4 million).
The chief prosecutor's office said in a statement on June 21, that handing out of satellite dish antennas to voters "on the condition of supporting a political entity still continues." It said that the action "may contain signs of a crime" involving vote-buying, which, according to the criminal code, can be punished either with fine or up to three years in jail.
The chief prosecutor's office also said that it requested the court to impound pending investigation satellite dishes, which were not yet installed by Global TV to its clients.
Following the announcement, police forces arrived at several enterprises affiliated to Bidzina Ivanishvili, where Global TV's satellite antennas are stored.
In an interview with Tbilisi-based Maestro TV earlier this month, Ivanishvili said that one of the aims of targeting him by the state audit agency was "to stop distribution of [satellite dish] antennas in the regions."
"These antennas will make it possible for television stations, reporting objectively, to bring information into the provinces and that would downscale [affect] of lies by Saakashvili's television stations and that will be disastrous for [the authorities]," Ivanishvili said.
The court's order, approving prosecutor's office motion for impounding Global TV's satellite dishes, reads that the case involves voter bribery through handing out satellite dishes and receivers by "certain individuals", who are not specified either in the court's decision or in a press release issued by the chief prosecutor's office earlier on June 21.
Court's order about seizure of satellite dishes and receivers owned by Global TV also reads that a motion by the chief prosecutor's office was approved because there is "a valid assumption" that this property of the company is used "for committing a crime, in particular for bribing voters."
"For that reasons this property should be impounded" pending investigation into the case, the court's decision reads.
Global TV is the only cable operator carrying in its package Channel 9, a television station co-owned by Ivanishvili's wife. The channel is also available on satellite.